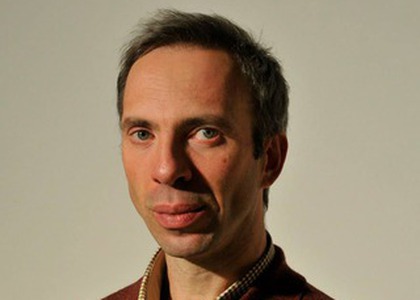 Interview with Laurențiu Beldean about the conferences dedicated to the Xenakis centenary
Thursday, 20 October 2022 , ora 10.15

On October 20th, a series of events dedicated to the centenary of the birth of composer and architect Iannis Xenakis begins in Brașov.

To begin with, I would like to talk about the guests at the symposium in Brașov and later in Brăila. While skimming through the programme, I noticed names from important universities. How would you describe the interest in Xenakis' music?
Basically, this project took place two years before, in 2020, when I was in Paris for three months and I had to meet with enthusiasts of Xenakis's music, with Xenakis's disciples, with thinkers who are today drilling into the Xenakian paradigm. I noticed that in Paris, Xenakis is much loved - he spent his whole life in Paris - and I noticed that there is a trend at IRCAM Paris, a great research centre. Then I was told, "yes, we must create a special event in Romania too, in the light of the 100th anniversary of Iannis Xenakis' birth". And of course they were also considering other major events that happened this year in Paris, London, Warsaw, Athens, Berlin, regarding the celebration of this great architect, musician, mathematician, an elite in the paradigm of the 20th century avant-garde.
You were talking about this league of academics. Indeed, I met the first of them back then, and afterwards, in Athens, I met other academics who wanted to join this project so that what happened in the other centres I was telling you about will happen in Romania too. That is, lecturers from Berlin, Cologne, Vienna, Athens, Paris, Edinburgh will come here to share with us ideas, their contributions related to research in the field of the Xenakian paradigm.

For those of us who won't be able to attend it, I assume there will be a published version of these presentations?
There is also a published version, and this event will be broadcast on the website of " Transylvania " University. The Rector of " Transylvania " University has given the green light to record this event in full. It will therefore be possible to follow this event via digital media channels.

Tell us a bit about the concerts that will take place in the series. Who are the composers behind the works that will be heard and also who will be the performers?
First of all, the importance belongs to the creation from the Xenakian perspective. Therefore, we will have the concert of the Brasov Philharmonic Orchestra as the opening of our event. It will perform a work by Xenakis - "Pithoprakta" for orchestra; we are talking about Thursday 20 October at 19:00. After that, piano recitals including works by Xenakis will take place on the following days. There will also be works by Vieru, Messiaen and so on. This will be the piano recital of Mrs. Irmela Rölke from Berlin, who will play in tandem with Alfia Nakipbekova - a prestigious cellist, an expert on Xenakis. She will also hold a masterclass entitled "The philosophy of performing Xenakis' music". Two concerts will take place afterwards: one - chamber music and another - by composers inspired by the paradigm of electro-acoustic music that Xenakis developed. They are Adrian Borza, Cătălin Crețu and Laurențiu Beldean. There are a few works, in another chamber music recital, in which short works by Xenakis will be performed; I'm talking about the recital with "Mikka S", "Nomos Alpha", "Charisma" and "Akanthos" - four chamber works signed by Xenakis. This recital will take place from 16:00 in the Aula Magna of the University. The electro-acoustic music concert will take place at the Philharmonic's "Patria" Hall. The recital of Irma Rölke and Alfia Nakipbekova will also take place at the Philharmonic. And the opening concert, on the 20th, will take place at the Philharmonic Orchestra of Brașov, Patria Hall.

After the events that will take place in Brasov on 20-23 October 20th - 23rd, the series continues in Brăila on October 24th and 25th. Why was this division necessary?
First of all, the composers, musicologists, researchers who are our international guests wanted to visit the birthplace of Xenakis, the house where Xenakis was born. This is in Braila and cannot be visited. There is a memorial plaque there saying that Xenakis was born there. It is a unique event. None of them have been to Braila yet; not many of them have come to Romania so far. So it's a unique event! We have offered something unique.
Therefore, Braila is a single day of conferences and recitals - October 24th. October 25th is already linked to the return of our guests to their countries of origin; October 25th practically no longer exists as an event. The 24th is the Brăila event that will take place at the "Maria Filotti" hall. The events that took place in Brasov will take place there in a compressed form: two conferences, two artistic interventions (the works "Akanthos" and "Nomos Alpha"). Due to the very short time, only the Xenakis Memorial House will be visited, the Orthodox church where Xenakis prayed, which he visited in the early years of his maturity, until the age of 15. Afterwards, the event will conclude with a festive dinner.
Interview by Petre Fugaciu
Translated by Cătălina Colibaba,
University of Bucharest, Faculty of Foreign Languages and Literatures, MTTLC, year I
Corrected by Silvia Petrescu