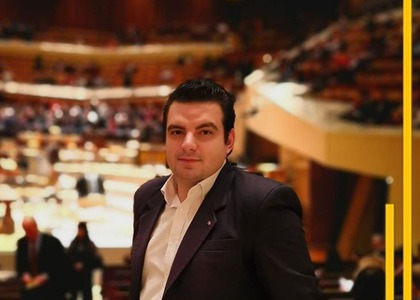 Interview with Vlad Mateescu, general director of Ploiești Jazz Festival
Thursday, 27 October 2022 , ora 11.53

Mister Mateescu, howweretheartistsperforming at the festival chosen?
It gives me great joy to announce the 17th edition of Ploiești Jazz Festival, an edition with many surprises concerning the lineup, nice surprises. Firstly, our renewed partnership with Sibiu Jazz Festival it's an important thing. Their festival was usually in May but they've moved it precisely so it could be at the same time as us so we could bring together artists of extraordinary value.In this way, we have greatly reduced the expenses when it comes to artists that are Grammy winners, who come to both Ploiești and Sibiu. In terms of the lineup, the festival has artists we've spoken to months in advance even though the pandemic, might I say, has been a headache. But we've managed to contact huge artists such as Jeff "Tain" Watts, Romain Pilon, Don Braden or maybe one of the festival's surprises, French National Jazz Orchestra. All these artists are somewhat in our target of artists, we are talking from a certain level, but of course we have to talk about the budget. We try to as much as we can with the budgets we have, but we have noticed that on the other side we are very much praised, including by people in the United States. The Mutual Foundation in Kansas City and the Jazz Museum in New Orleans, two of the most important institutions dedicated to this musical genre, with which the Ploiești Philharmonic has established a partnership, and the praise from them for the line-up that we prepare year after year means a lot to us.

What is the programme for the opening concert on 26th of October?
As people are used to step into the concert hall or more recently, for two years now, join us virtually in the concert hall, Virtual Concert Hall, we have a habit of opening this jazz festival - which, this time, is no longer just five days. We opened the festival on the 3rd of October and the closing concert will be on the 30th of October, but the main concerts are from the 26th to 30th of October. On the 26th of October we have this opening concert by the "Paul Constantinescu" Philharmonic Symphony Orchestra together with the "Ploiești Jazz Trio", the Ploiești Philharmonic being the only one with a jazz section. We are hoping to bring symphonic jazz to the stage, a project called Unspoken, with conductor Simona Strungaru and Sorin Sebastian Burneci on trumpet. It is a symphonic jazz, so that we can make a transitionas simple and as light as possible from classical music (being an institution of this kind, with a symphonic season), making the transition to jazz through this project - Unspoken.
On Thursday October 27th we will have two extraordinary concerts, one under the guidance of the German Embassy in Romania and the other under the guidance of the French Embassy and the French Institute in Romania. It is Nicolas Simion Quartet, "Funky Dudes" featuring Benjamin Henocq on drums, Oliver Lutz on electric bass and Antonis Anissegos on piano, and from 8.30 pm, the French National Jazz Orchestra will perform, an orchestra that, if I am not mistaken, has not been in Romania for over 20 years. On Friday October 28th, we will also present two concerts, starting at 7.00 pm - the Maria Joao Quartet, a group of musicians from Brazil and Portugal. This is one of the bands that has been brought together with friends and partners from the "Sibiu Jazz Festival", and at 8.30 pm, "Benito Gonzales Trio", with Jeff "Tain" Watts, perhaps one of the greatest drummers of the jazz world and Will Stater on bass. On Saturday October 29th, "Kristin Asbjornsen Trio" will perform, a project from Norway, so including an aegis of the Norwegian Embassy. As you can see, almost every night of the festival benefits from these embassy sponsorships, precisely because the budgets are so big, giving us the opportunity to bring great artists to Romania. From 8.30 pm, "Romain Pilon Trio", with Romain on guitar, Jason Brown on drums and Geraud Portal on bass, and on Sunday, Daphna Levy Project "By the see of Galilee", a project supported by the Israeli Embassy. And from 8.30, the "Joris Teepe Trio", with Joris Teepe on bass, Oqen Hart Jr. - drums and Don Braden - saxophone, also perhaps one of New York's heavyweight saxophonists come to Ploiești, from the 26th to 30th of October. All of these evenings, I mean they end including a jam-session edition. All the bands will also take part in an "after party", where, might I add, is the real festival, where we really see the artists in their moments of creation and improvisation.

What are your expectations for the 17th edition of "Ploiesti Jazz Festival"?
Expectations are nothing but a great joy, to move forward, to give us hope, because apart from wars, pandemics, problems and challenges we also have good music, nice people, beautiful show and a special atmosphere for Ploiești and Romania. As you well know, Ploiești was the first city to give birth to a jazz festival in 1969. We are happy that this year Sibiu is celebrating 50 years of jazz, including the three editions in Ploiești that were held in 1969, 1970 and 1971, they counted them all as 50 years. We are very happy about this, we were just saying that we are friends, that we are partners, and this phenomenon is developing more and more in Romania. More and more festivals are appearing, more and more bands, and this is to be encouraged and praised.
Interview by Ana Sireteanu
Translated by Cristina Ioana Bontea,
University of Bucharest, Faculty of Foreign Languages and Literatures, MTTLC, year I
Corrected by Silvia Petrescu