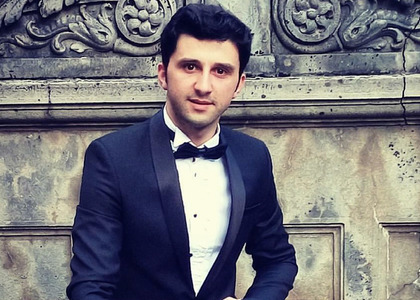 Interview with tenor George Vīrban
Thursday, 27 October 2022 , ora 11.56

The Royal Charity Concert will take place on the 25th of October, at 19.00, a concert held every year by the Margareta of Romania Royal Foundation, dedicated to fundraising for the "Young Talents" program. Tenor George Vīrban, former scholarship holder of the Foundation, has provided us with more details in an interview conducted by Ioana Țintea.

Fistly, I would like you to tell us about the time that you spent as scholarship holder in the "Young Talents" program. What did that mean for tenor George Vīrban?
The best years of college that I spent in Bucharest were as scholarship holder of the Margareta of Romania Royal Foundation in the "Young Talents" program. I was a scholarship holder from 2013 to 2015 and this was the time when I think I developed the most artistically, taking my first steps on professional stages under the guidance of world-class mentors, such as tenor Vasile Moldoveanu, conductor Tiberiu Soare or actress Oana Pellea. These are just a few examples that popped into my head of mentors that I had during the program and I think that all those concerts I performed with my colleagues for three years in different venues in Romania made me evolve.

Which experience has a special place in your heart?
My most important experience was my encounter with tenor Vasile Moldoveanu. It deeply influenced me. I worked with him for three years on the stage of the Romanian Athenaeum, we met every year at the masterclass that he taught and what happened there was life changing, because it has changed my perspective, my mindset and I think that this was my most significant experience. Then there was my first ever participation at the Royal Charity Concert alongside pianist Alexandra Dariescu and tenor Teodor Ilincći. I and Diana Alexe and Cosmina Stancu were invited for the first time to play as scholarship holders, to perform during the Royal Concert. That moment was very important for us. And now, as guests at the Royal Concert, it is a great honour for us to be performing for the talented young people of Romania.

What will you be performing?
Together with Diana Alexe, I've selected a program of arias and duets from operas and operettas, even from canzonettas. They are a wonderful couple of pages of classical music. We believe it is a diverse program that will create a very pleasant atmosphere for the public. They will certainly walk away satisfied.

What piece of advice would you give to the young people who want to follow in your footsteps?
First of all, I'd like to encourage them to sign up for the auditions of the Young Talents program for this scholarship. The auditions will start really soon, right after the Royal Concert. I've been told that they will launch another scholarship program for next year this November and I encourage them to sign up whole-heartedly, to apply for this program, even if the competition is pretty high. There are hundreds of candidates signing up every year. But being part of the Young Talents program is not only important, but quite an experience.
Interview by Ioana Țintea
Translated by Raluca Daniela Miloș,
University of Bucharest, Faculty of Foreign Languages and Literatures, MTTLC, year I
Corrected by Silvia Petrescu