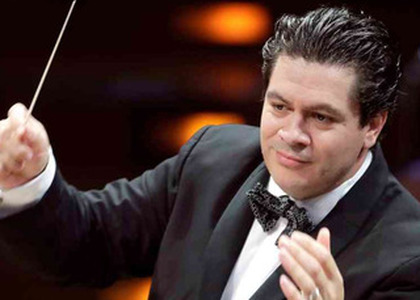 Interview with conductor Cristian Măcelaru
Monday, 7 November 2022 , ora 10.16

It is a joy for the Romanian public to see you again at the Romanian Athenaeum, conducting the "George Enescu" Philharmonic Orchestra this week, given your busy schedule!
I continue to make this effort, because it is indeed an effort for me personally, to return to Romania as often as possible to collaborate with Romanian artists. It is something that is very, very important to me. I've been doing it for many years already, I will continue to do it in the future. It's true, it's difficult because I have an extremely busy schedule, but I want to continue this and come to Romania. Every time I come here, I want to bring a programme that is less known in Romania. It is important for the orchestras here and for the Romanian audience to discover valuable works from the complete repertoire of classical music and that is why I will come with a symphony that is less known and performed in Romania - Elgar's Symphony No.1. I hope this will appeal to audiences who want to discover an extremely beautiful music, a romantic music, a music loved all over the world, but which unfortunately has not been performed in Romania.

It is an extraordinary opportunity for musicians and audiences to broaden their horizons. But as an opener, you come with a Beethoven opus.
Yes, that's true. It is a very rarely performed work for choir and orchestra and it is my opportunity to collaborate with the George Enescu Philharmonic Choir. That's why I chose this work, a work that is more gentle, it represents a slightly more timid side of Beethoven - the Cantata "Silent Sea and Happy Journey". It's a composition that's less often performed in concert, because it doesn't represent Beethoven as the composer of the great symphonies that we know, but it's a facet of a gentler Beethoven, a little more shy... but it's a gorgeous work, which also gives me the opportunity to collaborate with the Philharmonic choir.

Maestro Cristian Măcelaru, your presence in Romania is also announced as part of the musical events linked to Timișoara's special status as European Capital of Culture in 2023.
I very much wanted to contribute in this way to the cultural agenda of Timișoara as European Capital of Culture. That's why we will come with the Cologne Orchestra and we will have a concert there. And then we have a concert that we do together with the Banatul Philharmonic, the philharmonic of Timișoara. Then the musicians from the Cologne Orchestra will continue to give masterclasses for students and pupils from the conservatory and music school. There will be chamber music concerts, there will be collaborations with Romanian artists. And this was an idea that we developed together with our partners in Timișoara, because I wanted to create a gateway for a more direct collaboration from Western Europe to Timișoara, not only from Timișoara to Western Europe. And I wanted to capitalize on this combined heritage that we have, which is music itself. That's why it's a week I'm looking forward to, so that I can come back to Timișoara and contribute, from a cultural point of view, to the beauty of this city that... it's true, it's my hometown and that I love more and more.
Interview by Anca Ioana Andriescu
Translated by Lenuța Bejenaru,
University of Bucharest, Faculty of Foreign Languages and Literatures, MTTLC, year II
Corrected by Silvia Petrescu