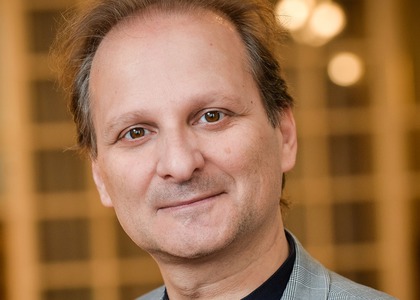 Interview with conductor David Crescenzi
Thursday, 8 December 2022 , ora 9.53

On Wednesday, the 7th of December 2022, the musician will lead the Radio Chamber Music Orchestra.

Mr David Crescenzi, you're coming back to the conductor's desk of the Radio Chamber Music Orchestra, on the 7th of December, to perform a series of works signed by Johann Sebastian Bach, Francois Couperin, Joseph Haydn and Antonio Vivaldi. Have you conducted these works before?
No, besides the Vivaldi piece, that I've interpreted when I was younger, the other three pieces are for the first time in my repertoire.

The soloist of the night will be the cellist Răzvan Suma. Is it your first collaboration?
It is our first official collaboration. I know Răzvan, he is an extraordinary musician. But it is our first time working together.

To interpret "Gloria" by Antonio Vivaldi, the Radio Academic Choir, trained by Ciprian Țuțu, will join the ensemble. How would you describe this collaboration?
We've played many concerts alongside maestro Țuțu and the ensemble, we've interpreted works by Vivaldi and played many vocal-symphonic concerts. I've always considered that the Radio Academic Choir is the best choir in the country.

How do you think the public will receive the repertoire you have chosen?
I think we've brought something new, because Bach is an "institution" for all musicians. Bach is the composer who imprinted the music with rules. This suite, Suite no 3 is a famous one, it's the aria of the second act. It is famous, because it has been used by many directors in commercials, in movies and so on. I also think that the public will have a good reaction regarding the two soloists.
Interview by Ana Sireteanu
Translated by Ioana Busuioc,
University of Bucharest, Faculty of Foreign Languages and Literatures, MTTLC, year II
Corrected by Silvia Petrescu