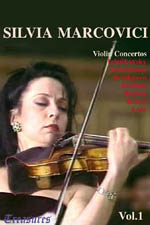 Violinist Silvia Marcovici - album release
Wednesday, 1 April 2009 , ora 11.10

In the
Legendary Treasures
collection, the Canadian record label DOREMI has released an album containing recordings from violinist Silvia Marcovici's concerts. The album contains two CDs with Concertos in D major by P.I. Tchaikovsky (with the Freiburg SWR Symphony Orchestra, conducted by Cristian Mandeal), J. Brahms (Stuttgart Radio Symphony Orchestra, conducted by Luis Antonio García Navarro), L. van Beethoven (Frankfurt Radio Symphony Orchestra, conducted by Eliahu Inbal), Concerto No. 3 in B minor by C. Saint Saens (Saarbrücken Radio Symphony Orchestra, conducted by Marcello Viotti) and Symphonie Espagnole by E. Lalo (Bucharest George Enescu Philharmonic Orchestra, conducted by Cristian Mandeal),
Concerto No.1 in G minor
by M. Bruch (Bucharest George Enescu Philharmonic Orchestra, conducted by Horia Andreescu) and
Concerto No.2
by Béla Bartók (Budapest Radio Symphony Orchestra, conducted by Erich Bergel).
The album contains two CDs with four of the most important violin concertos and a DVD with three concertante works. How did the selection take place?
It was a collaboration between the parties involved, according to everyone's availability. All the recordings collected on this album are from my concerts.
Tchaikovsky's concerto and Lalo's Spanish Symphony were recorded under Cristian Mandeal's baton, and you performed Max Bruch's Concerto No. 1 under maestro Horia Andreescu's baton. What memories do you have of these two important Romanian chief conductors?
I permanently keep in touch with Cristian Mandeal. My admiration for him knows no bounds. I have performed with him very often and I hope our collaboration will continue. He is a remarkable musician and an unparalleled technician-conductor. My son, the pianist Aimo Pagin, has recently performed with him and it has been a revelation to see him yet again. The emotion was doubled by the fact that he was performing with my son. I have a very good relationship with Horia Andreescu. Unfortunately, I have not had the chance to perform with him these past years, either abroad or here in Romania. It would be a pleasure to be with him on stage again. He is an extremely talented conductor, though his style differs completely from Cristian Mandeal's.


Your latest album is the first in a series. Can you tell us what is going to be next?
Yes. DOREMI is bound to take an interest in my recordings with Valentin Gheorghiu, probably Beethoven's sonatas. I am very sorry that Electrecord did not do anything in order to complete this series of Beethoven's sonatas with me and Valentin Gheorghiu. We do not have the third and the sixth sonatas.


Is the album already in the shops?

In America and Canada it is already on sale, and it will soon be in Europe too.


What other projects do you have?

In June I am performing with the National Radio Orchestra. I will be at the Montpellier Festival, where I will be performing works by Mendelssohn and Tchaikovsky, on July 14th, along with Evgeny Kissin (piano). I am currently teaching in Lausanne. I go back and forth from Graz to Lausanne. In autumn, I am going on tour with Eliahu Inbal; however, lately, my main activities have been teaching and chamber music.
Monica Isacescu
Translated by Martin Potter and Alina-Olimpia Miron
MA Students, MTTLC, Bucharest University