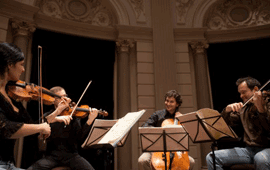 An Interview with the Violinist Corina Belcea
Monday, 4 February 2013 , ora 9.33

After their presence in Birmingham, during the last week of January, the Belcea quartet is now in Italy, for a round of recitals. The quartet led by the violinist Corina Belcea, which also includes Axel Schachel - second violin, the violist Krzysztof Chorzelski and the cellist Antoine Lederlin will be performing at Teatro Carlo Felice in Genoa on 4
th
February, 2013, a programme consisting entirely of works by Ludwig van Beethoven.
The violinist Corina Belcea was kind enough to talk to us about all this, in the following interview:

Your schedule is very busy with European recitals. After Birmingham, you'll be in Italy for the next few days. How are you feeling and how would you summarize your concert experience of the past few months?
We have had some amazing experiences, because we are still in the middle of a fantastic two-year journey with Beethoven. We have played all of Beethoven's quartets and over the past two years, with one or two exceptions, we have played nothing else but Beethoven. It has been an absolutely unique experience, although we obviously miss the other composers we have kind of neglected. We know that in March we'll perform our last concert with all of Beethoven's quartets, but we'll probably return to these wonderful plays in the following seasons, as we'll never be far from Beethoven; we'll probably keep at least one or two quartets in our repertoire in the next years and we hope we'll have again the chance to play exclusively Beethoven, maybe in five-six years' time, who knows.

It's true that you had a period when you focused on Beethoven's creation. What are your plans for the near future?
As I was saying, we'll still be playing Beethoven until March. We have to finish three cycles of his quartets, one in Genoa, one in Bolzano and the last one in Voze and then we'll focus on other composers. It's been 100 years since the composer Benjamin Britten was born and we'll interpret his three quartets in November, right on the anniversary of his birthday, on 22nd November. We'll have concerts in the place where he lived for a long time, at Aldeburgh. Afterwards, we have a very interesting project, which has actually suffered some changes. Initially, it was supposed to be a collaboration with the bass-baritone Thomas Quasthoff, but he unfortunately ended his artistic activity, that is he made the decision to quit singing. However, he decided that, given that he was supposed to work with us on this project, he still wanted to be involved. So, he'll recite some texts that will be accompanied by Haydn - The Seven Last Words of Christ, a work we haven't played for years and which we've missed very much. This will take place in March, in London, Hamburg, Brussels and Berlin; then we'll start with a new repertoire - Ligeti, Schoenberg and with our usual repertoire, a few quartets by Haydn, Mozart and, of course, Schubert.

Besides the works by Beethoven and Haydn, do you have other works you love and return to or composers who are closer to the quartet's artistic identity?
Mozart is a composer I feel much related to and I haven't played Mozart for a long time. I missed his quartets. There is still a quartet we have never played. Something else always comes up and we haven't managed to study all of them, so we'll also learn this one and play it during this season; Schoenberg's String Quartet No. 2 is a very dear work to which we'll return. We'll learn Ligeti's String Quartet No. 2. Of course, there are many, many works we haven't studied yet and are not in our repertoire and this is what we'll focus on in the next season.

Now, going back to the quartet, the group is composed of four different instrumentalists, who come from Romania, France and Poland. The collaboration on stage is, obviously, excellent. But how is the collaboration behind the scenes? I mean choosing the composers, the approach of the works or building the interpretation.
It is, of course, extremely delicate, because it involves four completely different personalities, but we get along very well. From the human point of view, we are very lucky, because we are four personalities who complete each other and have never had any problems in this area. We get on well, we are friends. Of course, there are also some more difficult moments, as we spend a lot of time together, more than we spend with our families, and we always have to be careful to be sensitive to the needs of the other partners and colleagues. But until now, honestly, we have never had any problems and the decisions are usually unanimous. Everyone has his voice within the quartet, from an interpretative point of view, but also when it comes to choosing the composers, the works and the programme of the concerts. So far, we have been very lucky from this point of view, too.
Sonia Neagoe
Translated by Mihaela Olinescu and Elena Daniela Radu
MTTLC, Bucharest University