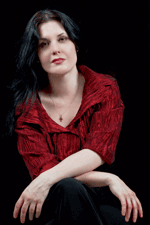 Romanian Music - in the Center of Attention Once More; Pianist Raluca Știrbăț's Latest Record
Thursday, 18 April 2013 , ora 9.41

We are talking about her latest album, released
by Gramola Records in Vienna
on 8
th
April, 2013; the CD comprises works by Franck, Debussy,
Bartók, as well as some by Mihail Jora and George Enescu. Your preoccupation with Romanian music is proven thus once again. The album is called
Go-Between - Between a Dance and a Dream.
Why did you choose this title and which are the most attractive points of this new album from the point of view of the Romanian people - because these points do exist?
This record has focused on the magnetic pole initially represented by Pièces Impromptues op. 18 by George Enescu and the 'Joujoux pour Ma Dame' Suite by Mihail Jora. I have known for two years, when my first album was released, that I wanted to record these works as soon as possible. In the case of George Enescu's compositions, I had to wait a little longer, because I only wanted to do it after confronting them with the original manuscript - and it was a good idea, because unfortunately our editions contain a lot of serious errors. They are extraordinary compositions which would become part of the repertoire of pianists all over the world. This music deserves it and we owe it to this art to re-edit it as soon as possible.

So, you went to the original manuscript...
Of course. This is a good opportunity to thank the staff at the Academy Library in Bucharest, as well, especially those in the Music Department, for giving me access to these manuscripts. I confronted them, and unfortunately there are a lot of mistakes - of rhythm, of musical text, of sound height, of alterations, as well as many omissions - I can't even list them all.

The album contains an important premiere - Jora's 'Joujoux pour Ma Dame' suite, recorded for the first time on an album.
As far as I know, there are a few recordings, perhaps in archives, that no one has valued. It is a truly extraordinary song, which charms and enchants anyone - from mere music lovers to specialists or sound directors. This is what happened with the Gramola Records team, too, when I performed it in concert two years ago - they insisted that it would be on the album. And let's not forget that 'Joujoux pour Ma Dame' also charmed Emil Hetzka, the famous editor of the Vienna Universal Edition, in 1925, when he published it. So, 'Joujoux' was published the same year it was composed. It is inexplicable why a really valuable song, a charming and beautiful one with great success is still not performed very often and it hasn't been recorded, yet. I hope things will change from now on.

Was the record company open to this proposal for the CD, with two Romanian compositions ?
Certainly. First of all, I had the freedom to make any proposals, but, once again, they were very charmed by Mihail Jora's music and then all the other songs, alongside Enescu, Debussy, Franck and Bartók somehow connected and created an entity. On this record, the different composers' pieces have a lot in common, a lot of tangential points, without necessarily being influenced directly at the time.
I would invite music lovers in Bucharest to discover this wonderful music on Tuesday, 30th April, in the Great Hall of the Romanian Athenaeum starting at 19:00 and I'm convinced they'll discover music that is performed often or rarely or even not at all - real treasures that we sit on and unfortunately don't value enough.
Ștefan Costache
Translated by Irina Borțoi and Elena Daniela Radu
MTTLC, Bucharest University