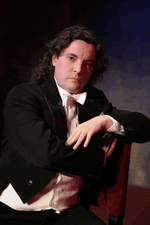 An Interview with the Tenor Alfredo Pascu
Friday, 15 November 2013 , ora 11.02

The 2013 edition of the 'Life is Beautiful' Festival takes place between 7
th
- 17
th
November. With this 6
th
edition, the event dedicated to the arts of music brings together concerts, galas and related activities. The festival is organized by the National Operetta Theatre 'Ion Dacian'. The tenor Alfredo Pascu is involved in many activities included in the festival's agenda.

Mr. Alfredo Pascu, this is an extremely busy week in your artistic life, full of special events.
For me, the week has started with the 'Ion Dacian Trophy' National Competition, on 10th -11th November (the preselection was on 10th, the finale - on 11th), and now, at the end of the week, I'll be involved in other two events. On Saturday, 16th November, at Godot Café, we'll have a concert-workshop with the graduates of the Operetta's Singing Studio, which I have been coordinating for some time now. And on 17th November, at the National Opera of Bucharest, there will be an event closing the 'Life is Beautiful' Festival: a gala - Alfredo Pascu and His Guests. Actually, the guests are all women: they are a surprise - four of them are from abroad (Poland, Russia, Hungary and Bulgaria) and the fifth is a debutante, another graduate of the Singing Studio. After the gala, in the foyer of the Opera, I am expecting the audience to participate, to join me for the launch of a book entitled A Dialogue with Alfredo Pascu. It is a kind of album with lots of pictures and an extended interview, where I talk about me, my activity, my family and meditations on life in general.

Are there young people interested in this universe of the operetta?
In spring I held an audition and there were many candidates. Unfortunately, I could only accept five, since time is for me such a rare commodity; I think that starting with January next year we'll begin again, with a new series of students. Many of those interested come from acting schools, those who have good voices and want to study the music-hall genre, but also those who study classical singing and want to master classical operetta. Unfortunately, at the Conservatory or at the Theatre Faculty, this form of music-hall or operetta doesn't get too much attention.

At the end of our interview, Mr. Alfredo Pascu, if you have a message…
I can only say that I have been with this institution for 17 years, so I consider it my second home, my second family; I feel very, very close to it, I have numerous achievements and beautiful memories here and I hope that everything will be all right from now on.
Irina Hasnaº
Translated by Mihaela Olinescu and Elena Daniela Radu
MTTLC, The University of Bucharest