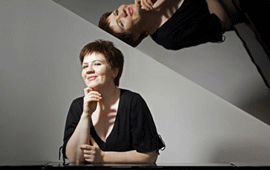 All-Romanian Programme Held by Romanian Artists in Fribourg
Wednesday, 27 November 2013 , ora 9.03

On Wednesday, 27
th
November, 2013, The Philharmonic Orchestra in Konstanz, Germany is holding a concert with an all-Romanian programme. Contrabassist Petru Iuga and pianist Dana Ciocarlie, with Romanian conductor Alexandru Janos will perform the works of Dragos Tara, Paul Constantinescu and Theodor Rogalski. On this occasion, pianist Dana Ciocarlie graciously granted us an interview.

Dana Ciocarlie, you promote Romanian music all over the world with an extraordinary perseverance, willfulness and assiduity. On 27th November, in the evening, you are giving once again the audience, from Fribourg this time, the opportunity to listen to some Romanian musical pieces. Will you please share with us your thoughts about the concert and the score you are going to play?
First of all, this is one of my greatest joys this musical year. This concert in Fribourg is actually part of the tour of the German Südwestdeutsche Philharmonie Orchestra, which was based in Stuttgart. In fact, the orchestra suggested a year ago that I should play Paul Constantinescu's Piano Concerto which I will be performing for the first time. I believe that they hava heard that I play Paul Constantinescu and Enescu's works a lot. This is actually a mythical concert for me. I heard maestro Valentin Gheorghiu performing it live, I also listened to it on record a long time ago and I am extraordinarily honoured to follow in his footsteps for this wonderful concert. I think that this musical piece measures up to Prokofiev's, at the least and it should be played more frequently. This concert will take place on 27th November, under aegis of The Embassy of Romania in Bern. It is an all-Romanian music programme. Constantin Silvestri and Enescu's works are also included in the programme. The conductor, Alexandru Janos is also Romanian.

It will be extremely moving for the Swiss audience to listen to this concert. Do you have any future plans regarding this concert, perhaps recording it?
I would love to do this, especially because the more I work at it the more I like it. But I cannot do this yet. To make a phonographic edition is a difficult and complicated thing for an artist nowadays. But I want to record it by all means. The days after the concert, I will perform with maestro conductor Lawrence Foster who is also a Romanian music fan. I will try to give him the recording and challenge him to perform this concert together in the years to come.

Thank you very much, Dana Ciocarlie! We wish you a lot of success!
Thank you! It will be a great pleasure, I am sure.

Translated by Petronela Morosanu and Elena Daniela Radu
MTTLC, The University of Bucharest