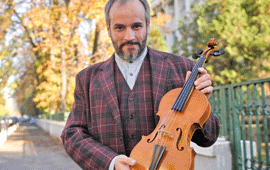 Bucharest Early Music Festival - Eighth Edition
Monday, 2 December 2013 , ora 8.14

The Bucharest Early Music Festival begins on Monday, 2
nd
December, 2013.
Laurențiu Constantin,
manager of the 'Medieval Praxis' agency, which produces this event, tells us about the eighth edition of the festival, in an interview with
Lucian Haralambie:

What makes the Bucharest Early Music Festival special in the Bucharest and Romanian musical world?
We don't deal with old things, but rather with the novelty of early music. It is indeed a novelty in our country. In Western Europe, early music genres are more common on stage than genres such as romanticism or classicism. This makes us think early music is the future. Many times throughout history, the past or a return to the past and its values was, in a way, the future. So on the one hand, we believe this is what early music means, too, in Bucharest. On the other hand, an early music festival here, in Bucharest, close to the gates of the East and of the Levant, must have certain specificity and certain differences from what it means for Western Europe, where we usually talk about Baroque and Renaissance music. These are the prevailing genres in early music festivals. Our festival is at its eighth edition this year. We can say without pride that along with other efforts, our festival, too, has placed Bucharest on the European map of early music. Throughout these eight years, we had top artists from Europe and the whole world come and play on our stage, even though we cannot afford the luxury the Enescu Festival displays; we can't invite a whole orchestra, but we do bring chamber ensembles or smaller orchestras, which play at the same proficient level, though.

And since we are talking about the artists of the Bucharest Early Music Festival… How did the collaboration with jazzman Harry Tavitian come about?
At this edition we are beginning to widen our perspective. We can say that the first seven editions were very purist, and we preached early music as we believe it should be made and as it is made in the West of Europe, namely a music where authenticity is of prime importance. Now we are open to other arts. Harry is an older friend of ours, he is a true artist and what they call a showman, beyond the music he makes. He has, and we have had the chance to find out about it over the past couple of years, a very strong public conscience, which manifests itself in the public space. We do not only have Harry's jazz concert, but also the vernissage of an exhibition called 'The Hanging Garden', which also proves an opening to other arts. It is a post-factum exhibition of painter and illustrator Virgiliu Parghel, and it shows out intention to have a festival with a wider scope, especially starting with next year's edition: dancing, visual arts, other music genres that do not necessarily belong to the category of early music.

How did you start this collaboration with the Brussels Conservatory?
The collaboration with the Royal Conservatory of Brussels, on the one hand, and with the El Gardellino Foundation and the Department of Education of the Flemish Government in Belgium, on the other hand, began two years ago after older discussions about what we now call lifelong learning. First, it is about the Il Maestro e Lo Scolare Programme, a programme that trains young professional musicians, and it is now focusing on the interpretive practice of Baroque music - especially instrumental music, but also vocal. These are young people who have studied early music in Romania, then studied abroad and decided to return home and continue making early music, and this programme caters to their needs of lifelong learning. It is a programme that conveys what should be a state of normalcy and it fills a void in the education of these musicians. On the other hand, we have the teachers. There are young musicians who play early music instruments, and they are mostly teachers at the Bucharest Early Music School, and they have two or three training placements a year in Brussels and in Romania, with professors of the Royal Conservatory of Brussels, where they study pedagogic elements, interpretive techniques, chamber music, they work with orchestras such as the Orchestra of the Royal Conservatory of Brussels or the Il Gardellino Orchestra. It is a great opportunity for a 30-year-old to play with extraordinary musicians such as flute player Jan de Winne, oboe player Marcel Ponseele or harpsichord player Ketil Haugsand. Often the chance of spending a week working every day in an orchestra, doing a master class and individual study with these musicians can mean more than a year or two of studying in a university.
You are cordially invited to the concerts of our festival, especially those during the middle, the strong core of the festival, at the ArCuB Hall, precisely on 3rd, 4th and 5th December, starting at 19:00.

Translated by Irina Borțoi and Elena Daniela Radu
MTTLC, The University of Bucharest