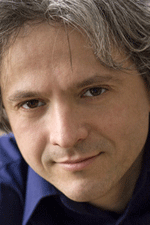 Interview with Pianist Cristian Niculescu
Wednesday, 4 December 2013 , ora 9.14

On 4
th
December, 2013, a concert dedicated to George Enescu will take place at the Romanian Cultural Institute in Paris. The concert will be performed by the
ConTempo
Ensemble, which pianist
Cristian Niculescu
is part of.

Mr Cristian Niculescu, you are one of the promoters of Romanian music in Berlin, and not just Berlin. On 4th December, 2013, you will be in a different context, performing a concert dedicated to the Great Union Day of Romania; a few details on your participation, and also on your dialogue partners.
It's going to be a reverential concert, a homage to George Enescu, on the occasion of the Great Union Day, that will be held at the Romanian Embassy in Paris. The ConTempo Ensemble was formed in Paris in 2000, by my colleagues: Mihaela Smolean – violin, Teodor Coman – viola, Radu Nagy – cello and myself on the piano. We all graduated the same year and we met years later in Paris, where we set up this ensemble which has now an intense activity and gets invitations to international festivals. Of course, we gladly accepted the invitation to give this reverential performance in Paris.

What are the pieces listed in the programme?
We wanted to have a diverse programme. In the first part, we'll also perform piano pieces from Piano Suite No. 3. Of course, there'll be the piece for viola and piano, as well as some smaller pieces, less known, for instance The Ballad for Piano and Violin, Trio Lointaine, Serenade Lointaine and Trio Abaude. This will be the first part, and in the second part we'll present the wonderful piano quintet.

It's an evening dedicated to George Enescu. Mr Cristian Niculescu, have you considered recording these concerts? Why not release them on disc?
Surely we have thought of making a disc with Enescu's chamber music and it's a project we very much want to carry out, but so far it could not happen for several reasons. As each of us is active on concert stages, it's been rather difficult to schedule a recording with a record label, but we promise to do this in the near future.
Irina Hasnaș
Translated by Anca Gheorghiu and Elena Daniela Radu
MTTLC, the University of Bucharest