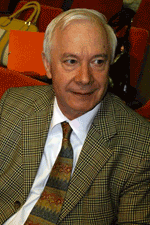 The Meridian, SNR - SIMC Days Festival at its 9th edition
Monday, 2 December 2013 , ora 9.31

A new edition of
The Meridian, SNR - SIMC Days
International Festival will take place from 2
nd
to 9
th
December.
Ulpiu Vlad
, Artistic Manager of the 2013 edition will fill you in on the main coordinates of this series of events.

The 9th edition of The Meridian, SNR - SIMC Days Festival will insist upon the two main coordinates: one would be the stylistic amplitude of the festival where important composers of our times will show up. Moreover, many composers from all over the world are expected at this event. We are interested in offering diversity both from a stylistic and from a practical point of view. For that purpose, we will have a workshop and releases of important musical pieces, newly launched at Editura Muzicala. Also, we will host Violeta Dinescu's album release.
The other important coordinate would be the pursuit of finding some remarkable young men and women whose music reaches the Romanian music quality. For that purpose we have founded the Ravivando Ensemble, this time as a quartet, a great ensemble consisting of youngsters whom I am sure you will be hearing about: Olga Berar - first violin, Ciprian Oravet - second violin, Adrian Vasile - viola and Mircea Marian - cello.
My greatest concern is that Romanian music to be played well; it is an essential condition in order to make the most of it. On the other hand, I am sure that these young men who are now approaching contemporary music will remain devoted to it forever. If not now, then probably never. In the current edition of this Festival, there will also be important names in the Romanian performing arts, professional names in contemporary music, although many of them are equally gifted in music of all ages.

Where will the concerts take place?
The concerts will be held in two important central points: The Cantacuzino Palace's recitation room and The National College of Music in Bucharest. There are only a concert and a book release at Tinerimea Romana.
Andreea Chiselev
Translated by Petronela Morosanu and Elena Daniela Radu
MTTLC, The University of Bucharest