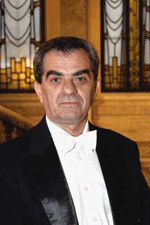 Two Carol Concerts of the 'Preludiu' Choir
Tuesday, 17 December 2013 , ora 12.58

The Chamber Choir 'Preludiu' is giving two concerts these days. The conductor of the ensemble, Voicu Enăchescu, talked to us about these events.

What surprises will you offer the audience in Bucharest?
It's too much to call them surprises. I'd like to think that the concert itself is a surprise for the audience, because it consists of both Christmas songs belonging to the international repertoire and Romanian carols. The first concert will take place at the St. Joseph Cathedral, where we have been invited for the fifth time by the Foundation for the Development of Peoples; it's a charity concert for children in special circumstances, for whom the Cathedral raises funds. Our concert will begin at 19:30 and it will comprise most of the works that we'll also be performing at the Romanian Athenaeum on Monday, 23rd December.
The traditional Christmas concert of the Choir 'Preludiu' will take place at the Romanian Athenaeum on Monday, 23rd December, at 19:00. We hope that, just like every year, lovers of this genre and not only will attend the event in the Hall of the Athenaeum.

Talking about the concert on 23rd December, I would like you to make an invitation to our listeners, because this concert will be broadcast live by Radio Romania Music.
This is a very good thing and, at the same time, an honour for us. I would like to invite especially lovers of choral music, but also those who, with the Christmas holidays so close, feel the need to listen to Christmas songs and Romanian carols. So, I invite all those interested to come to the concert on 23rd December. We'll probably have a few surprises for the audience.

Given the period…What were the significant moments of 2013 and what are your plans for 2014?
There were several significant moments: a series of concerts - with many performances - that we have given in the country, for the audience enjoying choral music and especially within the national and international choral festivals organized by the National Choral Association. I would mention our presence at the 'Chiriac' Festival in Pitesti, in summer, at the 'Pastorala' Festival in Focsani, the 'Liviu Gorlan' Festival in Baia Mare, the 'Ioan D. Kirescu' Festival in Cernavoda - where we gave a concert containing exclusively orthodox religious music in November.
For next year, we are already rehearsing for a few concerts celebrating the birthday of the national poet. On 15th January there will be a concert at the 'Tinerimea română' National Art Centre. Just like at the Athenaeum, we'll benefit from the collaboration of two well-known actors - Eusebiu Ștefănescu and Adrian Păduraru. Then, our activity will also take us abroad, to a prestigious international festival in Vilnius, then to Greece next summer and so on, one step at a time.
Lucian Haralambie
Translated by Mihaela Olinescu and Elena Daniela Radu
MTTLC, The University of Bucharest