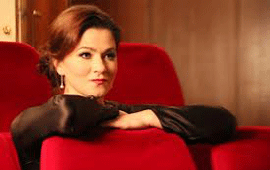 Interview with Soprano Tatiana Lisnic
Tuesday, 17 December 2013 , ora 13.59

Soprano Tatiana Lisnic graduated from the 'Gheorghe Dima' Music Academy in Cluj Napoca. She started her international career under the guidence of many important artists. Her warm and soft voice has brought her plenty of success achievements.
Tatiana Lisnic and Stefan Pop were guests at the Bucharest National Opera on the evening of 14th December, 2013.

Tatiana Lisnic, you are welcome on the stage of the Bucharest Opera House. It is the second time this year that you have taken an interesting part, playing Margareta from Gounod's Faust. What are your thoughts about this part and what is, in your opinion, the directorial vision in which you were made part of in Bucharest?
In the beginning of this production, we clearly see Margaret as a schoolgirl, who still plays with dolls because she did not have time to play as a child and who is trying to make up for the lost time by learning about things which she should have learnt about when she was younger, although now she is an growing-up woman. When she meets Faust, she realizes that he awakens female emotions in her. I am very happy that, in this production, Margaret's growing up, until the madness from the end and the demons'release, is very well centred and designed.

From a vocal point of view, how do you find this part?
It is a difficult part. I love French and especially Gounod. It is a colourful part in the beginning. Even the first aria has the jewels which made it famous; it is very playful and very light. The poet who follows her is very handsome and everything that follows after her encounter with Faust, becomes dramatic because she becomes a woman, a mother, she is cursed by her brother, she loses herself, so it is a very complex part. It is also difficult from the vocal point of view as I try to express Margaret's complexity till the end in the Anges purs trio that for me represents the climax of this opera.

After this appearance on the stage of the Bucharest Opera House, what are your plans, Tatiana Lisnic?
I want to spend my holidays in Cluj, with my family and friends. My first project will be L'elisir d'amore in a new production in San Diego, followed by Faust in Hong Kong and other concerts and operas.
Irina Hasnas
Translated by Petronela Morosanu and Elena Daniela Radu
MTTLC, The University of Bucharest