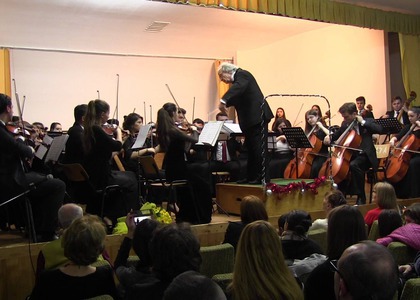 "Classical is fantastic" ("Clasic e fantastic"). Symphonic concert dedicated to conductor Nicolae Racu
Tuesday, 20 February 2018 , ora 14.07

The series of events dedicated to children "Classical is fantastic. How can we understand music" ("Clasic e fantastic. Cum să înțelegem muzica") continues Sunday, February 18, under Romanian Athenaeum's roof with an anniversary concert dedicated to conductor and professor Nicolae Racu, who celebrates 50 years of musical activity.

What does this moment mean to you?
It means a lot. 50 years is half a century. It is an intense activity that I've carried out. The timing of the anniversary of my 50 years of ceaseless activity at the no. 1 High School Music, currently known as the National College of Arts "Dinu Lipatti" corresponded with one of the concerts that we have long been holding within George Enescu Philharmonic. It's an activity I've carried out with self-denial, passion and I shall hope, competence as well, during which I had the pleasure to meet extremely talented pupils, many of whom have come to honour the Romanian interpretative art. I'd like to add that I carried out my activity as a professor not only at the National College of Arts "Dinu Lipatti", but I've also taught conducting for a long period of time at the Military School of Music and I'm proud to say that around 20-30 of my graduates hold now ranks such as lieutenant, colonel or colonel in the military orchestra.

What musical pieces have you selected for the program on this celebratory evening?
I thought it would be nice to choose Romanian music, as we are in the year of the Centenary: music by Enescu, Ciprian Porumbescu, Dinu Lipatti, Vasile Timiș, Paul Constantinescu and a remake done by the undersigned after "Hora mărțișorului" by Grigoraș Dinicu.

Lastly, I want to ask, who are the musicians that will accompany you on Sunday on the stage of the Athenaeum.
The Orchestra and Choir of the National College of Arts "Dinu Lipatti", but also many established musicians whom I taught along the years and as soloists, there will be Irina Sârbu - voice and Luca Rusu - piano. Irina Sârbu will accompany with her voice "Hora mărțișorului", and Luca Rusu will perform the interpretative part for Concertino for piano and orchestra by Dinu Lipatti.
Coverage done by Ana Diaconu
Translated by Nițu Ema-Gabriela,
MTTLC II, Facultatea de Limbi și Literaturi Străine, Universitatea București