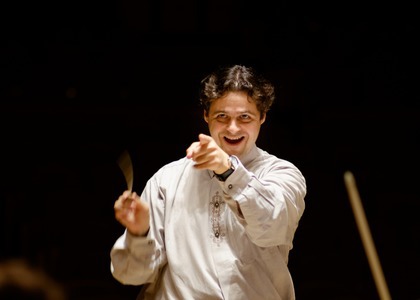 Interview with the conductor Cristian Orosanu on the Easter-themed concerts
Monday, 26 March 2018 , ora 10.23

Today, March 22, 2018, a concert dedicated to the celebration of Jesus's Resurrection, takes place in town at the "Patria" hall, under the generic "Paschal Brașov". Starting with 7 p.m., Cristian Orosanu will take over the music desk.
You're about to conduct the Kamerata Kronstadt in a concert dedicated to the Easter celebrations. How did you schedule the programme of this event?
I first thought about "The last 7 words of the Redeemer on the cross" written by Haydn, for which there are different versions for the piano, choir and orchestra, for symphonical orchestra. The most performed version is however that for the strings quartet, which can also be interpreted with a string orchestra. And Kamerata Kronstadt actually being an orchestra consisting of tailpiece instrumentalists, this being told, it's a very good ocassion to perform this work. It is often performed with a reciter. This time I'll be the reciter, I mean I'll select from the Biblical verse, which Haydn refers to in different musical pieces that he wrote. In the second part of the programme, on the same theme, a brighter song, even if the theme is the one that we already know; Pergolesi's score named "Stabat mater" is a lot more brighter and I wished this work to be in the second part of the programme. I have invited Iulia Merca and Diana Țugui from Cluj to join us in performing this score and I really enjoy this combination between Haydn and Pergolesi.

And for tomorrow you have already prepared another "Paschal Brașov", this time along with the philharmonic orchestra and, if I'm right, the programmes are completely different.
Yes, they're completely different. Truth be told, I didn't even know that tomorrow's event is included in the festival "Gloria Domini", I found out a few days ago. Maybe I would have been careful to also include a work somehow connected to this festival's theme but, after all, talking to sir Dragoș David, who is the director of the Metropolitan Agency of Brașov and our partner for these events, we have established that it's not mandatory that all the events are linked to the Easter itself, because they're cultural events around Easter celebrations. Of course we won't bring a show of Moulin Rouge in this festival, but still, a symphonical concert is very welcome. And at the philharmonica we have a programme with more short pieces. That means we will start with "The Foreplay of a Faun's Evening" by Debussy, then we have two pieces for viola and orchestra, performed by Răzvan Popovici, who performs for the first time with the Philharmonica of Brașov and I'm really glad that he is joining us. And in the second part I have put together two more intimate pieces, written by Wagner and Brahms. I'm referring to "Siegfried's Idyll" by Richard Wagner, which is a total different piece compared to Wagner's creations. It's a lot more intimate, written as a gift for his wife when she gave birth to their son Wagner, who he named Siegfried. And we finish with "Variations on a theme by Haydn" by Johannes Brahms, who is an intimate piece as well. It doesn't have the same amplitude as Brahms's symphonies, for example.

Thanks a lot for making time to talk to us. I wish you good luck with your rehearsals and concerts.
Interview conducted by Ana Diaconu
Translated by Andreea Gabriela Orasanu,
MTTLC, an 1