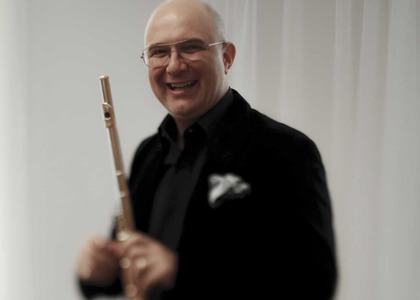 Interview with the Flautist Ionuț Bogdan Stefănescu
Friday, 8 June 2018 , ora 8.03

Ionuț Bogdan Ștefănescu, a voice of great consistency in the contemporary musical landscape (first flautist of George Enescu Philharmonic Orchestra, PhD professor at the National Music University of Bucharest, soloist of the Banatul Philharmonic of Timișoara, member of Contraste Trio) proposes to his audience a new edition of the national tournment The Magic Flute, this time in the company of the guitarist Costin Soare, promoter of some very interesting projects, with studies in Brașov, Hokkaido - Japan, Glasgow and MIDAS post-doctoral scholar researcher at the National Music University of Bucharest. The two artists will give concerts in six Romanian cities between 3rd and 10th of June.

Ionuț Bogdan Ștefănescu, you are getting ready for a new national tour of special significance. What is it about?
It is the 8th edition of The Magic Flute - there were also two editions each year during this tournment, which became already consacrated, I guess, in the Romanian seasons. For 10 consecutive days I will be singing this time with Costin Soare, an outstanding Romanian guitarist, who will accompany me in this musical journey in the Romanian cities. We start in Bistrița, then we go to Alba Iulia and Deva, we come back to Bucharest, then we go to Tecuci, Suceava; practically we cover the three Romanian provinces. This way we experience a happy moment by musically creating the idea of unification, which this year dominates all of us, given the fact that we celebrate one hundred years from the Great Unification. Music is not far from this truth because we chose for our program an English title - Twenty Shades of Music, which means twenty musical facets. Basically, this tour comes after the release of the CD which we realized last year, but which includes Romanian music - Romanian dances by Bela Bartok, Macedonian music, with powerful influences, however, from the Romanian folklore and the music of another South of the continent, in mirror, the Latin-American music. As far as these musical areas seem to be, they become very close, due to our interpretation, of course, but also due to the essence of the folklore. So I hope there will be a very attractive programme for those who will come to the concerts; it is a music that you cannnot listen to anytime especially performed live and this combination of flute and guitar for this kind of music is, in my opinion, the ideal one.

I really wanted to ask you, what should this flute-guitar combination suggest to us?
I have always said, I consider this two instruments, and it is not that I think so, the legends tell us and it is indeed a truth because there are written records - these instruments are considered to have been given by gods to men in order to keep a continuous connection between the two worlds. It is also known the musical warfare between Apollo and Marsyas, who dared to face Apollo, famous for his lyrical performances (with the guitar we are in the same area), while Marsyas defeated him by playing the flute. From here on, I think it is clear evidence that the sound of the two instruments fits perfectly, there is a symbiosis of a devine, but also human nature and so desiderable to be obeyed.

In this context, how does the collaboration with the guitarist Costin Soare look like?
I have been singing with Costin Soare for more than 10, 15 years. He approached me, came to me at the beginning of 2000 and he wanted to make a portrait of Toru Takemitsu. As I play contemporary music almost everyday, I was certainly tempted by this collaboration. I was very happy to discover he was an ultra-professional guitarist. He was very young at that time, he had just returned from the Music University in Hokkaido where he earned a master degree. Since then we have been inseparable in our musical adventure. We have had until now dozens of recitals with very different programmes, I feel very good when I sing with him, he is the perfect companion. In addition, for this tournament made in years, it is indeed a colourful infusion, which is good for the tournament.

How are you welcomed by the audience in the country?
Always very well. They are so enthusiastic and glad that they are given classical music. It is a perpetual surprise that everytime, despite all the opinion polls that I hear in mass-media regarding the fact that classical music does not have much followers, this audience comes to dispute this with obstinacy. It is amazing to see that the halls are packed at a flaut recital. This is also the opinion of my colleagues, who organize the other well-known national tournment, with the viollines or The Traveling Piano. Thanks to Radio Romania and to our persuation we managed to create an audience and to re-instill the appetite for good, literate music. I think this thing brings more education. I guess all those who listen to classical music and have this taste have a better, more beautiful, more relaxed and more fulfilled life.
Coverage by Marina Nedelcu
Translated by Georgiana Nuțu, MTTLC, 1st Year University of Bucharest