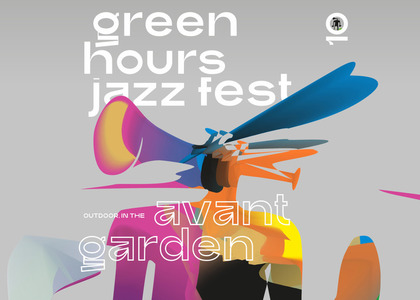 Green Hours Jazz Fest is starting!
Friday, 8 June 2018 , ora 8.31

From May 31st to June 3rd, Greenhours Club is entertaining Bucharest's citizens with the 10th edition of its very own jazz festival. Artists from 11 countries will be presenting, in 4 days of festival, their newest projects in the discreet garden from Calea Victoriei no. 120. Among the participants, winners of MOBO prize, 'Sons of Kemet' from Great Britain, the most valuable and sensitive piano player of Poland, Leszek Mozdzer, Jasper Hoiby, member of Phronesis, with a new project named 'Fellow creatures'. But Mr. Voicu Rãdescu, the club and festival's director, is giving us more details on the event.

A round number for Green Hours Jazz Fest, which has reached the 10th edition this year. Mr. Voicu Rãdescu, I suppose you have the greatest satisfaction!
Yes, indeed, I'm very proud and all this is due to our persistence. And, of course, a round number, such as 10, is transforming us, from an avantgarde festival into a traditional one. We want to keep the idea of novelty and freshness in what we are preparing for the festival.

What is this edition's profile? What are you proud of this time?
It might sound very odd if I say that we're proud of pretty much everything, but generally speaking this is how you do the things you like and that you also want others to like. All the bands that come are new bands, even if some of their musicians have already been to our country before. On the other side, all the projects they come up with are new. We have a challenge, probably a premiere in Europe and beyond - a night with three piano recitals. The three are all great piano players, fact that makes the night even more interesting. First, there's Nik Bartsch from Switzerland - more on the minimalistic side, with his innovation. One of the chroniclers named his music zen funk. Then there's Mircea Tiberian - there's no need to say much about him, although he rarely has the occasion to perform solo in Romania. I invite people to come and see what he can do with only one concert piano. And, last but not least, there's Leszek Mozdzer, who is...

The Chopin of Poland (or of jazz) !
Yes, it's been 10 years since he's considered by many Polish specialists and Poland public the best piano player of jazz and classical music from Poland.

Other names?
There are many names...I think I could make people who are already curious to be even more curious. On the websites greenjazz.ro, as well as on greenhours.ro you can find all the details. The festival starts on May 31st. Each day we'll be having two concerts, except on June 2nd, when the three recitals will take place. Coming back to June 1st, when a band will close our festival - the Dutch band Tin Men & the Telephone will be having a program named Jazz for kids. So, on June 1st, at 11.30 a.m., not in the Green Hours garden, but in the cinema hall 'Elvire Popesco' of the French Institute. It's a program dedicated especially to the kids and teenagers which can communicate live with the musicians by using their mobile phones and an application which can be found on the band's website. I'm not really into these mobile phone's tricks, but I've documented and it's very interesting what they do with an application in order to approach it to the artistic side.

Because our station usually broadcasts classical and jazz music, maybe you can tell us about the concert of the trio Aïrés from France.
We have the pleasant occasion of listening to Trio Aïrés on June 1st, which means Airelle Besson at trumpet (we rarely meet a woman trumpet player, and even more rarely, such a good woman trumpet player). She's followed by a great French piano player, Édouard Ferlet, who has a lot of projects on his own. Now he'll be accompanying Airelle Besson because of the nature of the program they'll be presenting. And Stéphane Kerecki at contrabass. I invite you to listen to a lyrical, but in the same time, very strong music that can satisfy both jazz and classical music fans.

On your website it's mentioned that the three are inspired from Fauré's music, Ravel...
Many songs are original, written by them, but this is a direction which might be interesting for those who are into classical music, the fact that they'll be surprised to find the jazz arrangements well done by the musicians which are also performing classical music.

In what consists the preparations for this kind of festival?
First of all, the joy of the initiators. Secondly, the existence of a public that really needs this kind of thing. And, thirdly, although it's not the most important, it's fundamental, minimum financial possibilities for creating such an event. We are a jazz club. The only jazz club from Romania which has been organizing a festival for 10 years now, and a jazz club theoretically doesn't have the necessary material means to organize a festival. We are friends with a cultural institution which has been collaborating with us since forever and which, as long as there are musicians from those specific countries, supports us as much as possible. There are other expenses included. I was this close to shorten the festival because the sponsor who has supported us for years has changed his target and, in the last minute, we succeeded in finding support that gave us the possibility of recreating the festival, from the Administration of National Cultural Funds to the Cultural Ministry and Romanian Cultural Institute. It was all done at last minute, which meant even bigger costs for us, because last minute tickets are more expensive etc., but let's just say I've managed to let go of my frustration in what concerns the difficulties of a cultural festival. It's not that we like it, but we know that these things happen, so we say it with pleasure...and considering the fact that culture is nowadays seen as market goods, it's very difficult to sell things with content like you sell those with no content, where quantity matters more than quality.
Interview realized by Marina Nedelcu
Translated by Andreea-Gabriela Orãșanu, MTTLC, An I;
Proofreading Mihaela Ghitescu, MTTLC, An II