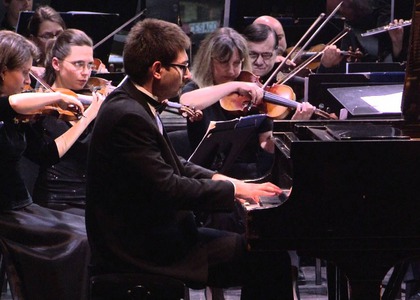 Interview with Mihai Diaconescu, the soloist at the Royal Concert on the 25TH Of October
Monday, 29 October 2018 , ora 8.53

The Princess Margareta of Romania Foundation continues the tradition of supporting and promoting Romanian culture and talent through the eleventh edition of the Royal Charitable Concert. Organized annually on the 25th of October, the Royal Concert is one of the most long-lasting and successful fundraising events in Romania. The funds raised from sponsorships and donations amounted to more than 1,300,000 euros, an investment made in the artistic future of Romania.
On the 25th of October, 2018, on the stage of the Romanian Athenaeum, valued musicians from the new generation, who rejoice in international recognition, will reunite,: violinist Anna Tifu, pianist Mihai Diaconescu and conductor Constantin Adrian Grigore. The program of the event celebrates 100 years of Romania. In the next interview, we discussed the concert with the pianist Mihai Diaconescu.

On the 25th of October, we will get to listen to you perform as a soloist in a Royal charity concert. How did you receive this invitation?
I was very happy to receive an email with this invitation. I thought it was a great opportunity to make my debut at the Romanian Athenaeum, to play for a cause I believe in, namely helping young artists. And, especially since everything is in a royal setting, of course I accepted.

What pieces will you be performing?
I will be performing the Concerto in D Major by Haydn. Then, it being the Centenary Year, I chose a Romanian piece, specifically Momentum, by Kirculescu.

What place do your Romanian projects have in your agenda?
I will be spending more and more time in Romania. I have recently moved back. I studied in Helsinki and lived there for 5 years; this year I will be living in Romania again, so I will have the opportunity to play in the country more often, as it is home. I have a pretty busy schedule. I have students here in Cluj, so I teach quite a lot. I will have a concert with the Craiova Philharmonic very soon, then in Râmnicu Vâlcea with the orchestra. I will also schedule some solo recitals. Then I hope to go on a mini-tour soon with a trio I am forming with some very valuable partners.
The interview was conducted by Ana Diaconu
Translated by Proca Florin, MTLLC AN II