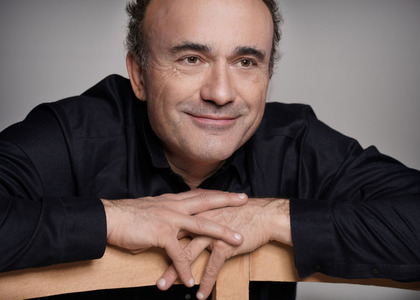 Interview with conductor Frederic Chaslin
Thursday, 29 November 2018 , ora 10.03

For starters, I would like to know what you think about the radio orchestra festival organized in Bucharest.
For many years, I've been the musical director of a radio orchestra, the Jerusalem Symphony Orchestra, so I am very familiar with the specifics of this kind of orchestra. Thanks to technology, the whole world can listen to you perform, so this is why a radio orchestra festival has great potential. I'm glad that the symphony I will conduct will be heard by my friends from Japan, Australia and France, where my family lives.

You have a rich background at the helm of the most distinguished orchestras of Paris, Vienna and London and the list goes on. You've certainly collaborated with Romanian artists as well.
I know Romanian musicians very well, especially performers I collaborated with at the Vienna Opera. In my orchestra at Jerusalem there is a significant Romanian community, as in the orchestras in Paris, but this will be the first time conducting the National Radio Orchestra, which I find exciting. These past few days in Paris, we had the "Days of George Enescu" festival, where I followed a number of Romanian artists who caught my attention through their temperament.

Which do you enjoy more, studio or live recordings?
I like both. Studio recordings can allow for corrections, and listening to it many times, even 10-15 times to find any mistakes, allows you to interpret the music close to perfection. At the same time, I like live recordings because they convey more emotion, for example I like the Mahler's 9th Symphony, conducted by Bruno Walter, despite its imperfections. Thinking about it now, I am fine with live recordings, so long as I can correct any potential mistakes.

What is your vision of the perfect orchestra?
The perfect orchestra is the one I will conduct in the next concert. There are orchestras specializing in Mozart, others in Italian music. It all comes down to the orchestras knowing their own resources, their character, their technical level of course, and choosing the right repertoire and communicating openly with the members of the orchestra.

You recently recorded an album with soprano Teodora Gheorghiu in Prague.
I know Teodora very well, we've been working together for over 10 years, she even studied with me. For this album, she chose lesser-known belcanto arias from the early 19th century repertoire dedicated to the famous soprano Henriette Meric-Lalande; these are rare arias by Vincenzo Bellini and Gaetano Donizetti. Her voice is very beautiful and she is very gifted.

This year you also conducted Tosca at the Vienna Opera, with Romania's great soprano Angela Gheorghiu, and during your first show with the Vienna Opera Ball we also saw Valentina Nafornițã performing. What can you tell us about these experiences?
What I consider to be the greatest quality in Romanians is their temperament. I've never encountered Romanian singers or performers whom I found to be boring, cold or distant. They are always very warm, full of life and dedicated to music. Angela Gheorghiu is the greatest singer I've met in my career, not just for her extraordinary and unique voice which everyone knows, but also for how she performs on stage, being sensitive to everything happening around her, which is very rare. She reacts quickly to the conductor's gestures. She once told me "Frederic, be careful with your gestures, because at the slightest move of a finger, even if I'm 10 meters away from you, I'll react immediately". She's absolutely incredible! Regarding Valentina Nafornițã, I can say she has a beautiful voice. I generally admire the passionate soul of Romanian artists, their intensity.

On the 21st of November, you will be conducting the National Radio Orchestra. Is this your first time in Romania?
No. I took part in the "George Enescu" Festival twice: first in 1995, when I conducted Pelléas and Mélisande by Debussy with the Iaºi Philharmonic Orchestra, and in 1998 I was invited with the Jerusalem Symphony Orchestra to conduct Stravinsky's Oedipus Rex and Bartok's Bluebeard's Castle, actually in Sala Radio.

The programme you will conduct in the 2018 RadiRo Festival is a very romantic one, featuring Tchaikovsky's Romeo and Juliet, Schumann's Piano Concerto and the Scheherazade Suite by Rimsky Korsakov. Do you have a special inclination to Russian music, perhaps due to your family's Russian roots?
My mother comes from Italy and my father's mother's side came from Ukraine, to be more precise from Odessa. My grandfather from his side of the family was French, so you could say I have some Russian blood too. But the fact that I was born in Paris really played a role in my knowledge of Slavic music. I generally enjoy music with much complexity, colourful and full of contrasting emotions, much like Russian music inspired by folklore, the kind written by Rimsky Koraskov, Tchaikovsky and many others. That's how I am!

You're a famous Parisian also because you chose to live on the boat on the Seine.
For over 20 years, I've been living on the river and I like it very much. It's wonderful, looking around from my boat, talking to you... it's a unique way of living in Paris and I don't want to change that. This way I can enjoy nature while living in a metropolis, which is a privilege.

You graduated the Conservatoire de Paris and "Mozarteun" University in Salzburg, after which, at the age of 26, you took on the role of Daniel Barenboim's assistant in the "Orchestre de Paris" and Bayreuth, and at 28 you were Pierre Boulez's assistant in the "Intercontemporaine" Ensemble; at the same time you took classes with Franco Ferrara. How would you describe the impact these great conductors had on your career?
Barenboim taught me the methodical side of the craft, he is a man of great and solid intellectual openness, whereas Boulez was much more instinctive in his conducting. With Barenboim, we had in common our beginnings as pianists, so we shared many things, with Boulez on the other hand it was very different, he had the point of view of a composer and would take me in totally different directions. Franco Ferrara, whom we know was also a violinist, showed me the orchestra from the inside.
But you didn't mention Sergiu Celibidache, because I generally don't talk about it. I was in his class in München in 1984-1985 and it was an extraordinary experience. From Celibidache, I learned a great many things, because he would talk about everything, not just about music, but primarily philosophy, about life in general. It's natural for a young musician to want to become the best, so you work and work and work, but you forget to look around you. Celibidache taught me to read people, observe them and everything going on around me. Music is a part of a greater whole, it's an element of the world, it is not the entire world - that is a very important lesson I learned from him.

Esteemed maestro Chaslin, your artistic career is rich and diverse, spanning across multiple levels: as a pianist, as an appreciated conductor in Paris, New York, Vienna, Los Angeles and you even find time to compose music. Tell me about your most recent opera, "Monte Cristo", which you dedicated to Placido Domingo.
He actually commissioned me to compose it. I finished it a few months ago. I have been interested in the subject for a while, and I didn't want to write difficult, avant-garde, highly intellectual music, but music which was accessible to audiences, with arias and so on. Music of great quality that might one day be as popular as Carmen. A few fragments of Monte Cristo have been performed by young singers in Bologna, and it was a hit. The opera will be performed in its entirety in April of next year. It's based on a great French novel...

You've also written two books about music, the first titled Music in Every Sense, which was translated into English and German, and the second book focusing on Gustav Mahler.
In both books, I try to explain why audiences find it difficult to understand contemporary music, why we can't enjoy present-day music as we do other creations, why we don't enjoy today's music as we enjoy Romantic music or Enescu's and Bartok's, for example. In the first book I explain a few of the problems of contemporary music, the ties with our emotional world and I try to explain why this kind of music doesn't rank among our preferences. It's not a book you can read at the beach, with a glass of whiskey. The book about Gustav Mahler is something completely different. Back when I was conducting his symphonies, I read absolutely everything about him, so I put all of that information in my novel. If you know Mahler - as he was in his day-to-day life - you can learn a lot more than you would from lessons at the Conservatoire.

Maestro Frederic Chaslin, thank you for your time!
Interview conducted by Monica Cengher
Translated by Victor Macry, 1st year MTTLC