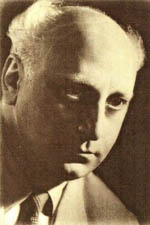 Paul Constantinescu Centenary
Thursday, 17 December 2009 , ora 13.52

The Bucharest National Opera House hosted on Wednesday, December 17th 2009 a concert and a performance in homage of Paul Constantinescu. The event was opened by musicologist Ph.D Grigore Constantinescu with a brief yet heart-felt presentation, which highlighted the regret for the neglect of the Romanian classical musical creation in the contemporary cultural life. I don't know if the cold weather and the snow in the city made the public scarcer than usual, but the atmosphere was quite distant, given the fact that this event deserved more warmth and interest.

In the first part, the pleasant and diversified programme was opened by the National Opera Orchestra which, performed three symphonic dances by Paul Constantinescu, with zest and precision, under the baton of master Cornel Trailescu. Then four madrigals by the same master followed, in transcription for vocal quartet and piano, performed passionately by singers Dorina Chesei, Sidonia Nica, Lucian Corchis, Ion Dimieru and pianist Luminita Berariu. The most elevating and thrilling moments were triggered by the Bucharest National Opera Choir conducted by master Stelian Olariu during the prayer We praise You Lord from the Byzantine Liturgy and Katavasia of nativity from the Byzantine Christmas oratory - soloist Doru Feraru, pianist Sabin Orbulescu.

With regard to the opera O noapte furtunoasa (A stormy night) performed in the second part of the evening, I can only say that, in this formula, the performance is altered by the lack of some quality voices and the comic verve specific to the work.
Iolanda Drâmbei
Translated by Zenovia Popa and Mircea Filimon
MA Students, MTTLC, Bucharest University