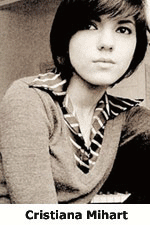 The Final Selection for the New Talent Music Contest
Thursday, 17 December 2009 , ora 13.56

Thursday, on December 17th 2009, Radio Romania Music has organised the national selection for next year's New Talent music performance contest, which will be held at Bratislava. The selection took place at the auditorium of the Cantacuzino Palace in Bucharest.

For those of you who have not listened to our live radio broadcast or have not seen the online video on our website, you should know that three young musicians competed for the right to represent Romania in this international contest under the aegis of The European Radio Broadcasting Union.

The first mini-recital belonged to flutist Vlad Alexandru Rebreanu, who played flawlessly, yet he slightly managed to impress by performing works of Wolfgang Amadeus Mozart, Eugène Bozza and Alfredo Casella. He was accompanied by pianist Verona Maier.

His performance was followed by that of beautiful Cristiana Mihart playing the piano. She chose to perform Beethoven's Waldstein Sonata and Brahms' Variations on a theme by Paganini Op.35, which may seem too masculine for her gracefulness.

Last to perform on stage was clarinetist Aurelian Bacan. He played Francis Poulenc's Sonata for clarinet and piano, Tiberiu Olah's Sonata for clarinet solo, and Luigi Bassi's Rigoletto-Fantasy for clarinet. Full of charm and good sense of humor, the young clarinetist is, in my opinion, most likely to win this contest.

By January 15th 2010, Radio Romania Music will propose two musicians to the contest's international jury.
Andra Ivanescu
Translated by Andra Stroe
MA Student, MTTLC, Bucharest University