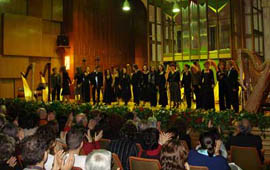 Opening of the New Opera Assembly Room of the National University of Music Bucharest
Thursday, 17 December 2009 , ora 13.58

Not much has passed since the National University of Music Bucharest inaugurated the organ pipe from the George Enescu concert hall, that on December 17th a new event took place: the opening of the new Opera Assembly Room inside the building. Being one of the few concert halls in Bucharest that has an orchestra pit -is technically well-equipped, the room has a capacity of 300 and even a strobe light.

The unveiling ceremony of the portrait sculpture of theoretician Victor Giuleanu, rector of the Bucharest Conservatory between 1962 and 1972, a ceremony which took place in the lobby, was followed by a concert intended for bringing the acoustics of the Opera Assembly Room into sharp relief. And because the winter holidays are coming, the programme included Christmas carols -from Anton Pann's ancient collected carols to Romanian or international Christmas songs, performed by students of the National University of Music, grouped in two choirs and also in a brass winds ensemble.

Arias of well-known operas by Wolfgang Amadeus Mozart and Giacomo Puccini were also part of the programme and probably lead the way to a forthcoming repertoire that comes closer to the music of this century and that from now on can be approached and performed in a properly equipped assembly room.
Alexandra Cebuc
Translated by Georgiana Mîndru
MA Student, MTTLC, Bucharest University