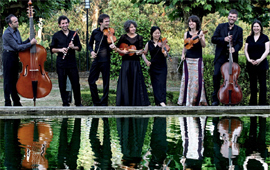 The Gli Incogniti Ensemble on stage of the Romanian Athenaeum
Sunday, 13 December 2009 , ora 14.13

The French Institute dedicated to the Italian baroque a concert - from the Great Soloists series - which took place at the Athenaeum, on December 13th 2009. The Gli Incogniti Ensemble was invited to give a recital which included exclusively works by Antonio Vivaldi, namely the Concerto for Two Violins and Cello in G minor and the cycle of concertos entitled The Four Seasons.

It seems to me that Vivaldi's music is suitable for any occasion: it is very well-known and besides, it succeeds in creating a special atmosphere that transports the listener back to the time when the composer lived. However, the arrangement that violinist Amandine Beyer made for two violins, 'cello, theorbo, double bass and harpsichord did not seem the most inspired to me. The low register often happened to drown out the violins. I think there needed to be more than two such instruments in order to cope with the continuous bass. This way, the melodic lines would have been better delineated, and the entire performance would have reached perfection. During this concert, though, I felt there was an amorphous mass of sounds in which the voices were insufficiently defined.

The soloist of the evening was Amandine Beyer. Although her timbre was suitable for such a repertoire, it seemed to me that she had a chaotic discourse that often lacked the accuracy and the precision indispensable for the performance of baroque works.

Although it was not the best performance of The Four Seasons I have ever heard, it was a pleasant way of spending a Sunday afternoon.
Petra Gherasim
Translated by Andreea Niculae and Alina-Olimpia Miron
MA Students, MTTLC, Bucharest University