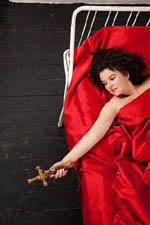 The release of The Hospital of Love album
Saturday, 12 December 2009 , ora 14.24

Mezzo soprano Oana Andra released her new album The Hospital of Love on Saturday, the 12th of December at the Great Foyer of the Bucharest National Opera. The artist herself explains why she chose this title : "It has been inspired by the songs gathered by Anton Pann and all of them preserve the original titles, so some of them represet my choice, because this album is the first volume, and there will be others which will be selected. "

Their Royal Highness, Prince Paul and his wife, Princess Lia, who offered a scholarship to the artist, not so long ago, delivered the inaugural speech. Then, there was Oana Andra's recital, who interpreted old songs, from the 17th and the 18th centuries, which were transposed on modern rhythms. As a matter of fact, the artistic message was anchored in our present times, as such terms as hit, trendy and featuring could have been heard in the artist's discourse. Therefore, Ciprian Porumbescu's Ballad was defined by the artist as the "climax'' of her CD/record. The Ballad underwent a deep metamorphosis: from the blue ballad, it has become a melancholic love song, with lyrics written by Oana Andra herself.

Further details about such "recomposing " of The Ballad are offered by Alexandru Tomescu in an interview :


Have you ever imagined, before this project, that Ciprian Porumbescu's Ballad will be suitable for a love song ?

Maybe to a tragic love story, because it is about a sad feeling, something that belongs to our national folklore. The Ballad is a masterpiece which is known not only by the clasical music fans, but also by Romanians in general, as it has had different musical orchestrations. Few months ago I heard its hip-hop variant,which emphasizes that a clasical piece can preserve its value by being adjusted to various rhytms and styles, proving meanwile that good music has no borders.


Briefly, it was an event with strong applause, and after having given thousands of autographs Oana Andra told us about her future projects. How many volumes of The Hospital of Love are you going to release?

There will be three, at least. When will this be possible?

I have just overcome the trials and difficulties that come together with the releasing and producing(as it was my own production) of the first album in my life. I hope it will not be in a so distant future.Maybe in a year from now on.
Petra Gherasim
Translated by Gutu (Ivanov) Alinda
MA Student, MTTLC, Bucharest University