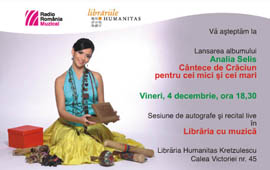 Christmas Songs for All Ages, a new album from Analia Selis
Friday, 4 December 2009 , ora 14.26

For those who went gift-hunting for the loved ones on Friday, December 4, 2009, Analia Selis, an Argentinian artist settled in Romania six years ago, came up with the perfect idea, by launching her new album, entitled Christmas Songs for All Ages. The event was the third in the series Bookshop and Music, a project developed by Radio Romania Music and "Humanitas" Bookshops. For the first time in Romanian music industry, a record comprising Christmas songs with Romanian lyrics, yet with touches of South-American tunes, was released.

The songs, written entirely by Analia Selis, are meant for children and for adults as well. The singer entered the scene after a surprise circus act, and was welcomed with rounds of applause by the numerous friends and enthusiasts, who had the opportunity to listen to four tracks available on Christmas Songs for All Ages, which were also played during the concert that took place at the "Mihail Jora" Studio, on December 13. At the end of the event, from among the loads of books and candy, everyone had the chance to wish their best to Analia Selis, and receive autographs on the cover of the album, a record which had surely found its place into the boots left on the windowsill, waiting eagerly to receive Saint Nicholas' presents.

Analia Selis revealed how the album came into being:

" My first song in Romanian, Gentle at Heart, took shape last year on Christmas, while I was playing my guitar at home. I decided to perform it during the Christmas show and see how the audience responds, considering that I think in Spanish and it might have influenced the lyrics. It was very well received, and so it all began; afterwards, I came up with other musical ideas, and I managed to finish Christmas Songs for All Ages before the end of this year. It is a Christmas album, and though the rhythms may sound Latin-American, the stories are all written in Romanian: it is the first time I sing in Romanian for the Romanian public."
Petra Gherasim
Translated by Bogdan Prundeanu and Zenovia Popa
MA Students, MTTLC, Bucharest University