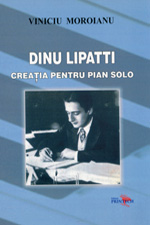 In memoriam Dinu Lipatti
Wednesday, 2 December 2009 , ora 14.30

On the evening of December 2, 2009, the "George Enescu" National Museum hosted a memorial event to mark 59 years since the passing away of renown pianist and composer Dinu Lipatti. The evening started with an exhibition opening, Winners of "George Enescu" National Composition - Dinu Lipatti Award , arranged by museologist Cristina Andrei. From her position of consultant for the event, musicologist Olga Grigorescu spoke about the personality of the great musician. A special type of document was shown to the public, and it will not be displayed within the exhibition held in the Great Hall of Palace Cantacuzino (closing on December 18, 2009) - the recording of an interview with Dinu Lipatti, broadcasted by Radio Geneva in 1950.

After this moment, the launch of Dinu Lipatti - Works for Solo Piano, by pianist and professor Viniciu Moroianu took place, a volume that covers almost entirely this particular section of the composer's work. The only exception, Fantasy op. 8, is subject to a distinct book by Viniciu Moroianu, bearing the subtitle A Treasure of the Composer's Ideation.

The final part of the evening featured Viniciu Moroianu's recital, comprising works by Johann Sebastian Bach, George Enescu and, of course, Dinu Lipatti. The particular intensity of his performance reaffirmed the pianist's fondness for intricate, spectacular works.

The whole event was a success, and it also brought back into the spotlight the personality of a great performer and composer, Dinu Lipatti.
Andra Ivanescu
Translated by Bogdan Prundeanu and Valentina Tache
MA Students, MTTLC, Bucharest University