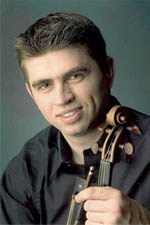 The Enescu-Brahms Tour in Bucharest
Wednesday, 25 November 2009 , ora 14.32

First in Stockholm, Brussels, Prague, Copenhagen, Madrid, Paris, Vienna, and now in Bucharest, The "Enescu-Brahms" Tour organized by the Romanian Cultural Institute, brought together violinist Remus Azoitei and pianist Eduard Stan on the stage of the Romanian Athenaeum in the capital, where they held an outstanding performance.

The two musicians performed the "Torso" Sonata and the Third Sonata by George Enescu, in "Romanian folk style", as well as no. 3, opus 108 and no. 2 opus 100 by Johannes Brahms. However, after concluding their performance, Azoitei and Stan found themselves compelled by the steadfast applauses of the public, to interpret, encore, other two musical pieces: George Enescu's "Ballad" and Johannes Brahms' Hungarian Dance no. 1. The applauses we mentioned earlier were more than justified, since the Azoitei-Stan duo offered a high quality interpretation of the chosen works.

On stage, the two performers displayed a complementary relationship, which is usually difficult to attain, but which can be explained by their long-lasting collaboration. The piano background music played by Eduard Stan has always had a strong impact and it has supported, by a generous and profound concordance, or by the subtle arpeggios, the thoroughly studied discourse of the violinist.

In Enescu's Sonatas, the public could identify the quintessence of the Romanian culture generated perhaps, as Blaga says, by the Romanian geography. The folklore - as collected and processed by the Romanian composer - maintained its freshness, its originality and authenticity under Azoitei's bow; he managed to brilliantly surpass the technical difficulties and gave the impression of improvising by the easiness with which he moved his fingers over the violin.

After the recital in Bucharest, the two musicians have two more destinations to cover: Washington D.C., where they will perform at the Kennedy Center, and New York, where Enescu's music will resound in Carnegie Hall.
Petra Gherasim
Translated by Mihai Oana- Manuela and Valentina Tache
MA Students, MTTLC, Bucharest University