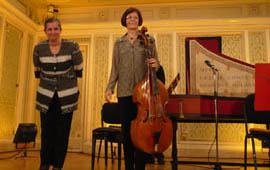 The Tuesday Evening Season
Tuesday, 10 November 2009 , ora 14.40

The Small Hall of the Romanian Athenaeum hosted on Tuesday, November 10th, an early music recital by Anca Iarosevici - viola da gamba and Verona Maier - harpsichord.

The program included all the Sonatas for viola da gamba by Johann Sebastian Bach. The two musicians performed- in front of a numerous public- Sonata no.1 BWV 1027 in G major, Sonata no. 2 BWV 1028 in D major and Sonata no. 3 BWV 1029 in D minor.

Pianist Verona Maier, whose presence on stage guarantees each time an exceptional concert, graduated from the Music University of Bucharest in 1984 after which she returned as a professor, at the chamber music cathedra. In 2006 she obtained the PhD in Music with the dissertation 'The Spontaneous Choice of the Tempos for the Preludes and Fugues in J.S. Bach's The Well Tempered Harpsichord'.

Her debut as a concert performer in 1970 opened the door to many concerts and recitals that took place on the stages of Italy, Switzerland, France, Greece, Hungary, Germany, Slovakia, Austria, Spain, Portugal, Denmark, Poland, Sweden and The Czech Republic, as well as to numerous participations in national and international festivals. She is a member of the Studioul de muzica veche1 chamber music group; she plays the harpsichord and percussion. The pianist Verona Maier has participated in many radio and TV shows and she also performs on seven CDs registered at home and abroad. In 2004 she received the 'Meritul Cultural' 2 medal- first class- from the Romanian President.

Anca Iarosevici was a student of the Music National University of Bucharest and she attended her father's - George Iarosevici- cello class; in 1974 she began to study viola da gamba and she has perfected the specific art for this instrument, in three variants: tenor, alto, discant.

She was a member of the 'Melos' quartet, of 'Consortium violae' and, since 1985, she has collaborated with Ilse Maria Reich and Robert Dumitrescu; together, they founded the early music group, 'Ricercare'.

In 1990, soprano Georgeta Stoleriu, the harpsichord player Verona Maier and Robert Dumitrescu - viola da gamba, created Studioul de muzica veche3, with a rich concert activity that has continued until today- tours in Germany, Austria, Hungary, Spain, Portugal, France, Greece, Slovakia and the United States; participations at the 'George Enescu' Festival as well as at all the early music festivals in the country but also in Palencia and Santander (Spain), many radio recordings.

During the recital offered by Anca Iarosevici and Verona Maier during The Tuesday Evening Season, at the Romanian Athenaeum the public experienced, one more time the revelation and the satisfaction of a high class concert. The splendid music of the unique Bach managed once again to unveil, through the exceptional interpretation of the two musicians, the perfect harmony of a genius inspiration.
Adriana Nitu
Translated by Oana-Manuela Mihai and Lorena Fota
MA Students, MTTLC, Bucharest University