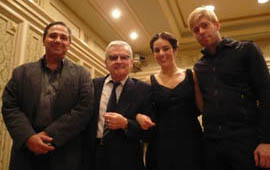 Tuesday Night Session
Tuesday, 3 November 2009 , ora 10.18

Many people like... jazz! This may be a good foreword to the wonderful Tuesday evening, of November the 3rd 2009, held at the Small Hall of the Romanian Athenaeum. Taking the stage were singer Irina Sarbu, pianist Puiu Pascu, clarinetist Alin Constantiu, and bassist Ciprian Parghel.

The programme announced a "musical journey" through three cities, which may be the reason why many young people and adults alike hastened to take their seats in the hall. Many of them remained standing, therefore the night already looked promising.

And so it was.

The program first included old Romanian songs from the inter-war period, from what Bucharest once used to be, songs such as: Vrei sa ne-ntalnim sambata seara, Unde-i centru-n Bucuresti, Nunuta, Ilona. Then the night featured American rhythms bringing the scent of New York on stage (I got rhythm, Fever, C'est si bon), and finally, the bursting, passionate, samba that led the public through... Rio de Janeiro
While listening to those old Romanian songs, one could not be more amazed by their richness in colour and by the content of the lyrics. Compared to today's songs... they were definitely from "another world"...

Irina Sarbu is a jazz singer and an actress, a distinct personality in the Romanian musical scenery, due to her double professional specialization - piano and acting, but more important, for her musicality, sensibility, for her great sense of rhythm, for her ability to improvise, for her sincerity and for her special warm, beautifully coloured voice quality. One can easily guess that she was Anca Parghel's student, from whom she learnt a lot, and that the meeting with Marius Mihalache, the master of cembalo, was an important breakthrough in the young artist's career. She has been part of his band for two years.
Puiu Pascu is a keyboard virtuoso, a master of improvisation, an inspired composer, an artist on the highest steps of his career. The pleasure and frenzy he manifests when performing harmonies and complex, elaborate rhythms, the unique way in which he approaches standard pieces and the intense fever during his performance and creative process, make him an unique Romanian jazz artist. His presence on the Romanian Athenaeum Small Hall may be considered an extraordinary event, because, on any poster, the name of pianist Puiu Pascu must always be written in capital letters.

Alin Constantiu (alto clarinetist, soprano, tenor, baritone and saxophonist) made his debut on jazz stages with bop pieces, led by Jancsi Körössy, collaborating afterwards with great musicians of the time, such as: Radu Mantopol, Eugen Ciceu and Richard Oschanitzky. He takes part at Göttingen Jazz Festival as both founder and member of "Marius Popp Quartet" and "Vocal Jazz Quartet", after which he starts a long successful journey of performances through Germany, Hungary, The Czech Republic and The United States. He traveled all around the world aboard of a transatlantic. In the past few years, Alin Constantiu has been a permanent member of Johnny Raducanu's bands, the leader of "Remember '26" group, and the promoter of an excellent tribute project entitled Tribute to Benny Goodman.

Having graduated from the Royal Conservatory of Brussels, Ciprian Parghel has worked with famous jazzmen, among whom worldwide renown artists such as: Arche Shepp, Puiu Pascu, Mircea Tiberian, Gabris Dedeian and Paolo Radoni. He also performed many times in the family trio-formula, alongside his brother and mother, Anca Parghel. He is known to be the most valuable counter bassist of his generation, managing to prove his skills and talents and his exceptional musical inspiration during each concert.

On the evening of November 3rd, 2009, at the Small Hall of the Romanian Athenaeum, the four musicians offered the public a very pleasant and relaxing night, a true demonstration of virtuosity. Their sincerity and pleasure of performing were quite contagious, as the public enthusiastically embarked on this wonderful musical journey.
Adriana Nitu
Translated by Andra Stroe and Valentina Tache
MA Students, MTTLC, Bucharest University