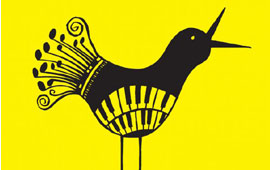 The Opening Day of the Sonoro Festival
Sunday, 1 November 2009 , ora 10.23

The IVth edition of the SoNoRo Festival opened in the Capital on Sunday, the 1st of November 2009. The event took place at the Cotroceni Palace - a venue which the organizers of the festival also chose in the previous years. The atmosphere was as elegant as always. During the interval, the way of socialising - over a glass of the new "Sonoro" wine sipped in the sumptuous palace - reminded of a fashionable event rather than a chamber music recital.

During the opening recital we listened to the members of the Raro Ensemble: violist Razvan Popovici - who is also the Artistic Director of the festival, pianist Diana Ketler, violinist Alexander Sitkovetsky and cellist Bernhard Naoki Hedenborg. They were joined by the well-known pianist Mihaela Ursuleasa and cellist David Cohen.

At the beginning we listened to Trio "Elegiaque" in G minor by Sergei Rachmaninov. Pianist Mihaela Ursuleasa, cellist David Cohen and violinist Alexander Sitkovetsky performed the trio passionately. The Piano Quartet in C minor by Johannes Brahms followed, flawlessly performed by the members of the "Raro" Quartet.

The Piano Trio in D minor by Felix Mendelssohn, performed by the same artists who interpreted the first opus in the programme, marked the end of the opening recital of the Sonoro Festival., The festival will try to direct the attention of the inhabitants of Bucharest towards chamber music, by means of elegant and stylish events organised in spectacular venues, until the 10th of November.
Andra Ivanescu
Translated by Oana Ludmila Popescu and Silvia Bratu
MA Students, MTTLC, Bucharest University