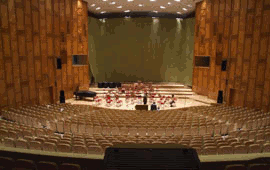 The First Concert in the New Radio Hall
Friday, 30 October 2009 , ora 10.30

A gala concert took place at the Radio Romania headquarters on Friday, the 30th of October. It was organized with the occcasion of the United Nations Day, which commemorates the enactment of the Charter of the United Nations on the 24th of October 1945, and the opening of the "Mihail Jora" Hall, after its renovation.

The Radio National Orchestra performed under the baton of conductor Horia Andreescu. During the first part of the programme, we listened to a work performed for the very first time. This was the second suite from the ballet "320 Black Cats" by Lucian Zbarcea, which is based on the detective novel written by Rodica Ojog Brasoveanu. The respective work is not long, but it is spectacular and it does not lack humour, being therefore appropriate for the event. It was followed by Concerto No. 5 for Piano and Orchestra "Emperor" by Ludwig van Beethoven, which was performed with mature sensibility by Dana Borsan. In the second part, another well-known musical piece - Pictures at an Exhibition - by Musorgski-Ravel. And the ending, just as spectacular and cinematographic as the beginning of the concert.

We will allow Mrs. Maria Toghina, President and Executive Director of Radio Romania, to draw the conclusions:

"It is a great joy for me to see the Radio Hall full again. This created a certain state of excitement because after two months of hard work aimed at getting the concert hall ready for its audience, we were wondering how the acoustics were going to be, how it would turn out, but everything sounded perfect. The audience congratulated us; the specialists praised the performance of the Radio National Orchestra, conductor Horia Andreescu and Dana Borsa. I can only be happy because during this period when we celebrate 50 years from the opening of the Radio Concert Hall we managed to renovate this concert hall, which is unique in Romania, since it is the biggest recording studio with audience.

Of course I am looking forward to seeing the organ back and I can hardly wait for its inauguration concert, so I can only focus on future projects and on the few things that are still to be done in the concert hall. Hopefully we will be able to do everything on time."
Andra Ivanescu
Translated by Oana Ludmila Popescu and Silvia Bratu
MA Students, MTTLC, Bucharest University