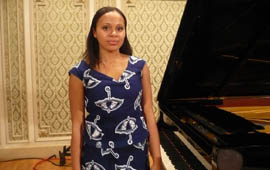 The Tuesday Evening Season
Tuesday, 27 October 2009 , ora 10.37

On Tuesday evening, Rebeca Omordia's piano recital took place in the Small Athenaeum Hall.


The young artist graduated from "Marin Sorescu" Vocational Art High School in Craiova in 2002 and in 2006 from the Bucharest National University of Music, Department of Piano, Dana Borsan's class.


She was awarded a MA Socrates-Erasmus scholarship at at the Birmingham Conservatory, and then she improved her piano skills under the guidance of professors Gabriel Amiras, Michael Kahazevici, Dominique Merlet, Gerlinde Otto and Peter Donohoe.


The young pianist won numerous prizes, among which: first prize at the "Beethoven" International Contest in Arad, in 2007, first prize at the "Ina Macarie" National Piano Contest (Bucharest - 2004). In 2005, she went into the semi-final of the "George Enescu" International Contest in Bucharest.


Rebeca Omordia performed recitals in Romania, England, France, Austria and Finland and as a soloist she was backed by orchestras such as the philharmonic orchestras of Arad, Oradea, and Craiova, the Symphonic Orchestra of the Conservatory in Birmingham, the Thallein Ensemble, the National Music University Orchestra of Bucharest. She collaborated with the following conductors: Sabin Pautza, Ervin Acel, Modest Cichirdan, Radu Popa, Steven Clarke, Lionel Hill and Dorin Frandes.


At the current moment, the young artist is a piano teacher at the Birmingham Conservatory (Junior School) and at the Music Academy in Aston - Birmingham.


The recital performed at the Romanian Athenaeum comprised the cycle of plays for piano Kreisleriana> by Robert Schumann, Scarbo from Gaspard de la nuitby Maurice Ravel and Sonata by Bela Bartók.


The young pianist displayed self-control, due to her desire to share with the public the freshness and the sensibility of the artist, who is eager to express herself. She performs with intelligence, every musical note is deeply thought, well analysed and especially "filtrated" by the artist, who manages to create a balance between the strength and the warmth of her artistic expression. Her impressive technique, her maturity, as well as the extraordinary lyrical moments, have made such a special recital possible, a performance which was very appreciated and warmly applauded by the audience present at the Small Athenaeum Hall.
Adriana Nitu
Translated by Cristina Moraru and Lorena Fota
MA Students, MTTLC, Bucharest University