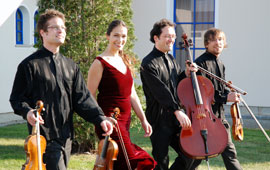 The Delian Quartet in Vienna
Wednesday, 28 October 2009 , ora 10.40

I am glad to announce the presence of a new string quartet among whose members there are Romanian musicians. Namely, an ensemble founded in 2007 in Germany, known under the name of "The Delian Quartet", bringing together, among others, Adrian Pânzaru and Aida-Carmen Soanea, both being natives of Iasi.

Named after the Delios Island, the island of the god Apollo, protector of the arts, The "Delian" Quartet" is already enjoying a positive response from the media. On Wednesday, October 28, 2009 they performed a recital at the "Brahms" Hall in "Musikverein", and on Thursday, October 29, 2009 they participated at an original experiment, in a famous club in town, an experiment at the border between "serious" music and the "entertainment"one. Respectively, The "Delian" Quartet performed in a bar set up in the hold of a ship on the Danube, in the centre of Vienna, a highly sought after place by the nonchalant young men in town, especially in summer. In the fall of 2009, this club offered a program of classical music in dialogue with pop, jazz and techno genres, one of the concerts being performed by The "Delian" Quartet.

Thus, during one week, the ensemble has appeared in two complementary instances: while in Musikverein it demonstrated profoundness performing Haydn, Sostakovici and Beethoven, in the "Badeschiff" club it showed humour and receptivity to different styles, qualities more and more appreciated when it comes to the characteristics of nowadays' musicians.
Haiganus Preda-Schimek
Translated by Mircea Filimon and Catalina Proca
MA Students, MTTLC, Bucharest University