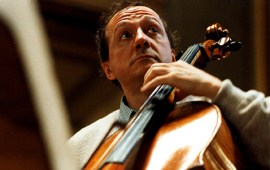 A Recital at the Peles
Saturday, 24 October 2009 , ora 10.52

Cellist Miklos Perenyi was invited by the Cultural Centre of the Hungarian Republic to give a recital at the Peles National Museum on Saturday, the 24th of October 2009. The occasion: the National Day of the Hungarian Republic, celebrated on the 23rd of October, a day before the recital. The Hungarian musician proposed a Johann Sebastian Bach evening - so, we listened to three of the six suites for solo cello - no. 2 in D minor, 4 in E flat major and 6 in D major.

I confess that Miklos Perenyi's name was unknown to me and this may be the reason why I was surprised by his extraordinary performance in the Chamber Music Hall of the Peles Castle. The exceptional flow of the phrases and the natural character of the musical discourse, the sober style and that equilibrium specific only to experienced artists - are just a few of the qualities highlighted by this musician's performance. Listening to Miklos Perenyi's performances, one can feel, and above all hear, that the scores presented are carefully studied and analysed. I was bewitched by him, but I am sorry to observe once again that Bach is not everybody's cup of tea; for some members of the audience present at Peles, three of his suites for solo cello proved to be extremely boring - as I inferred from their sometimes noisy restlessness.

The venue of the event - the Chamber Music Hall of the Peles Castle - perfectly matched the nobility of Bach's scores. A more elegant hall, filled with more history and beauty, could not have been chosen. Upon entering this hall, the first instinctual gesture that you want to make is to take a bow.
Irina Cristina Vasilescu
Translated by Oana Ludmila Popescu and Silvia Bratu
MA Students, MTTLC, Bucharest University