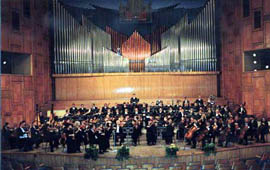 The Cultural Days of the European Central Bank
Wednesday, 21 October 2009 , ora 10.56

On October 21 , starting at 8 PM CET, the  Romanian National Radio Orchestra (photo), conducted by Cristian Mandeal, opens for the Cultural Days of the European Central Bank , which are dedicated this year to Romania.

Romania is now the 6th country on which the events organized by the institution that controls the Euro currency are being focused. On the 20th anniversary of the Romanian Revolution of 1989 and of the fall of the Iron Curtain, the European Central Bank and the Romanian National Bank try to sustain a deeper cultural acknowledgement of one of the states that have most recently joined the European Union.

Until November 9, the Frankfurt programme will cover a mix of music, theatre, dance, literature, film and plastic arts, represented by Romanian well-known artists: Mircea Cartarescu, Dan Puric, Grigore Lese, The Romanian Piano Trio, Gheorghe Zamfir.

Remarkably, the Cultural Days of the European Central Bank support is given by the National Radio Orchestra, which has returned after a few years on an important European stage, that of Alte Oper in Frankfurt, a cultural and architectural symbol of the Hessa land's capital.

The conductor is Cristian Mandeal, and the programme is as follows: George Enescu - Suite I, Rhapsoy I and the Romanian Caprice for Violin and Orchestra (Gabriel Croitoru, solo violin), with a score, in the version we know today, written by Cornel Taranu, as well as the Triple Concerto op. 56 by Ludwig van Beethoven (soloists: violinist Anda Petrovici, cellist Marin Cazacu and pianist Nicolae Licaret).
Stefan Costache
Translated by Bogdan Prundeanu and Mircea Filimon
MA Students, MTTLC, Bucharest University