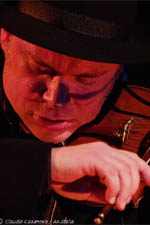 The HotRomania Jazz Festival in Vienna
Thursday, 8 October 2009 , ora 11.12

For several days, the Porgy and Bess Jazz club, situated in downtown Vienna, was host of a fabulous Romanian jazz show, which included native Romanian artists that made their debuts on stages world-wide, such as violinist Alexandru Balanescu (photo), pianists Marian Petrescu, Marius Popp and Lucian Ban, or famous singer, Sandra Weigl. I usually try to avoid superlatives in reviews but this time a moderate tone would offer too little insight on the quality of the music evenings I attended.

Accompanied by their bands, in which they work together with fellow colleagues from many countries, such as Great Britain, Slovenia, The United States of America, and of course, Romania, these artists reveal through performance, ingenuity and talent, the face of a contemporary Romania. A country linked to the present but also to the older traditions of Romanian urban music, to the music of Maria Tanase, to town folklore and to fiddler music. It is true that each artist has an individual style and manner of revealing himself/herself through music. That is why Marius Popp prefers a concise expression and a controlled sound, a minimalist one, while Marian Petrescu is able to express a poetic world by means of his piano, making no shortage of humor and self-reflection. In the free, opened style of jazz, these mixes of genre and cultural tradition become possible.

The music played at this Vienna jazz festival of October 2009, was the result of the collaboration between exceptional musicians and a specific musical style. The musicality of Romanian towns, of the summer gardens, of past and present clubs, is integrated in the contemporary language of jazz and offered to people of all ages in an accessible, yet elaborate manner. We should also note that the hall of the Viennese club, Porgy and Bess, a well-known stage opened to new music, was filled with audience, and that the enthusiastic tone of this review does not only express the author's personal opinion, but also the response of the public which attended the "Hot Romania"' Jazz Festival in the capital of Austria from Friday to Sunday.
Haiganus Preda Schimek
Translated by Andra Stroe and Valentina Tache
MA Students, MTTLC, Bucharest University