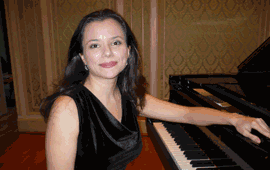 Tuesday Evening Season
Tuesday, 6 October 2009 , ora 11.14

October 6th, 2009... a warm and beautiful autumn evening. The start of the "young" season in the Small Hall of the Romanian Athenaeum...

One hour before the beginning of the chamber music recital held by pianist Anca Saftulescu, our colleagues from the Romanian Television and those from Radio Romania Music - make efforts to best organise the means for recording and filming... Here she is - last year's young and charming graduate of the National University of Music in Bucharest. It is not difficult to guess her emotions, discreetly hidden under the beam lighting her cheeks...

The audience start to arrive and time slowly goes by... The time is 19:00. Musicologist Cristina Sârbu says a few words about the recital that opens this year's season and... of course, about the young pianist we are about to hear. The fact that she was admitted to the MA Programme by Dana Borsan stirs our interest... on top of her references - which are not to be neglected at all - we read about in the programme sheet.

Pianist, Anca Saftulescu benefited from an Erasmus scholarship to study at the Paris Conservatoire National Supérieure de Musique et de Danse, pursued refresher courses with professors Malcom Bilson, Claude Bessmann, Georgy Petrov, Aleksei Liubimov, Claire Chevalier, Constantin Sandu and so forth. She held recitals in the United States of America, France, Belgium, Italy and Romania, of course, and she is the laureate of more than twenty-five national and international music competitions.

Finally, the recital starts with Prelude, Coral and Fugue by César Franck, a difficult score that the soloist endeavoured to play as best as she could and mostly did. Well placed in its time, Sonata op. 26 in A flat by Ludwig van Beethoven followed. Ballade no.1 in G minor by Frédéric Chopin was in accordance with the young pianist, Anca Saftulescu's vibrating soul, and the difficult score for Bela Bartók's Sonata required the artist's whole inner strength. We are all charmed by the young pianist's technique and delicacy, by the atmosphere only her completely extraordinary musicality would be able to create...

An enthusiastic closing and flowers... The audience rewarded the pianist with generous applause. It was a beautiful evening with a good start for the Tuesday Evening Season dedicated to young talents, that we all need so much...
Adriana Nitu
Translated by
Alina Maria Bucurel, Elena Gheorghe

---