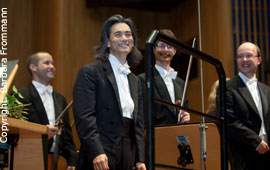 Beethovenfest in Bonn
Friday, 2 October 2009 , ora 11.17

At the end of last week, between October 2nd and 4th, I went to the last three concerts of the Beethoven Festival in Bonn.

The tradition of the Beethovenfest in Bonn goes back to the year 1845 when Franz Liszt himself initiated it - the contemporary version of this festival dates from 1999. This year, Beethovenfest ran between September 4th and October 3rd - there are one or two concerts a day, held in various halls of Bonn, but also in other bordering towns.

Being a newcomer, Beethovenfest does not display the cohesion specific to well-established events, such as the George Enescu Festival, with which we're so familiar. But people of value were present this year: conductors Paavo Jarvi, Gustavo Dudamel, Valeri Gergiev, violinists Christian Tetzlaff and David Garrett or pianists Elisabeth Leonskaja and Andreas Staier. Among the artists invited were Romanian pianist Teo Gheorghiu whom we have admired at the 2009 George Enescu Festival.

The last three concerts of the Beethoven festival were completely different: Friday, October 2nd, Chorus Musicus Köln and Das Neue Orchester were led by Christoph Spering - a renowned conductor for performances where period instruments are used - in their performance of the Elijah oratorio by Felix Mendelssohn. It was a clear version, in the so-called original style, devoid however of any special brilliance.

On Saturday, October 3rd, at the Schumann House, we saw the incredible recital held by a contrabassist from Belarus, Stanislav Anisanka - winner of the 2009 ARD music contest - accompanied by the pianist Dunia Robotti. Former disciple of Dorin Marc, the young 26-year old proved that his instrument, the contrabass, can be a lot more than a mere presence in an orchestra.

On Saturday evening, the Beethoven festival came to an end with the concert held by the Mahler Chamber Orchestra, conducted by Kent Nagano. It had a grandiose programme: Beethoven's op. 133 (Große Fuge) in the version for string orchestra, Richard Strauss's Metamorphosen and Brahms's First Symphony - and an internal version, with a very good string performance. A nice end for a festival with a budget of four million euro, out of which only 1,5 million came from the German state.

And if you go to Bonn, you must see the house where Beethoven was born - a real holy place of pilgrimage for those who love the music of the Bonn titan, but also the Schumann house, the building which housed the institution where Robert Schumann died in 1856. Morever, in the old cemetry in Bonn are the tombs of the Schumann family (Clara and Robert). Find out more in the Music Box editions on October 12th and 19th, Monday at 20:00.
Cristina Comandasu
Translated by Alina-Olimpia Miron
MA student, MTTLC, Bucharest University