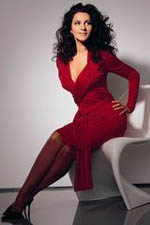 Soprano Angela Gheorghiu in Constitution Square
Saturday, 19 September 2009 , ora 11.20

On Saturday evening, the Constitution Square in Bucharest hosted an exceptional concert held by the famous soprano Angela Gheorghiu and her guest, tenor Vlad Mirita. Accompanied by the George Enescu Philharmonic Orchestra, conducted by Tiberiu Soare and by the Accoustic choir, the two performers enchanted the public with an extremely diverse programme, from opera and operetta to canzonets and musicals.

The concert, which marked the anniversary of 550 years in the history of Bucharest, was introduced by actor Victor Rebengiuc and was extremely successful. The numerous people gathered in the open air area in the Constitution Square were able to watch the performance of the artists under excellent acoustic conditions, while two large screens ensured the video projection of the ongoing event.

The charming presence of Angela Gheorghiu, the unique hallmark of her timbre, her sensual legato, the brilliant acutes and the sensibility of the interpretation, alongside the exuberant and contagious energy and joy, which the artist imprinted on each of her appearances on stage, impressed the public who enthusiastically applauded her performance, requesting several encores at the end of the concert. Her partner on stage, the young Romanian tenor Vlad Mirita, also proved his qualities - a generous voice, with éclat in all registers and fine timbre - vividly answering to the challenge of performing alongside a top artist of the worldwide lyrics.

The Philharmonic Orchestra, stringently and assuredly conducted by Tiberiu Soare, was received with extended applause by the public, especially when it inserted the Romanian Rhapsody by Enescu during the second part of the programme. This was another homage brought to the Romanian composer who is being celebrated these days through the festival which takes place in Bucharest.
Cristina Radu
Translated by Elena Gheorghe
MA Student, MTTLC, Bucharest University