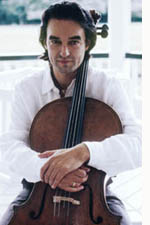 The Little Paris International Festival
Wednesday, 19 August 2009 , ora 11.33

The third chamber concert of the second edition of the Little Paris International Festival took place in the Alfred Alessandrescu Studio within the premises of Radio Romania Music. The not so numerous but extremely receptive public enjoyed the presence of a trio made up of valuable musicians: cellist Ramon Jaffé, clarinettist Dimitri Ashkenazy and pianist Wolfgang Wagenhäuser.

The German cellist - who was born 47 years ago in Riga, in a family of musicians - has given proof of real qualities as an interpreter and composer, performing with the utmost sensibility and passion one of his own works, named Flamenco, composed in the memory of the late guitarist Pedro Bacan, alongside whom Ramon Jaffé discovered the fascinating world of flamenco music.

Dimitri Ashkenazy - the son of renowned pianist and conductor Vladimir Ashkenazy - performed solo Study no.3 in A minor by Astor Piazzolla. The programme also included the Trios in D minor by Mihail Glinka and op.114 în A minor by Johannes Brahms, as well as Kinderszenen for piano by Robert Schumann - a work suggested by Wolfgang Wagenhäuser.

If during the moments spent together on stage the three musicians gave proof of homogeneity and technical precision, as soloists they attracted the public's admiration: Ramon Jaffé with his exuberant personality and his extremely agreeable scenic presence, and Dimitri Ashkenazy with his resonant accuracy and his pleasure of performing.

The audience will be able to hear the Swiss clarinettist play once again on Monday, August 24th, during the next recital of the Little Paris International Festival in the hall of the Cantacuzino Palace.
Larisa Clempus
Translated by Elena Gheorghe
MA Student, MTTLC, Bucharest University