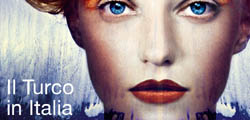 The Turk in Italy at the Theater an der Wien
Thursday, 9 July 2009 , ora 11.41

In 1814, the year of the Congress of Vienna, a Europe shaken by wars was finding amusement in going to the theatre and listening to Italian opera. Even though today Vienna is no longer the host of such a congress, it continues to be the host of Rossini's operas. This summer at the Theater an der Wien, Il Turco in Italia is being performed, a musical play written by Rossini precisely in 1814. The play is staged by the German director Christof Loy while the main characters are played by Nino Machaidze (Donna Fiorilla) and Ildebrando d'Arcangelo (Selim). On July 9th 2009, as an exception, the male character was played by Tigran Martirossian.

The libretto, translated into the present, made the public associate the frivolous romance between a Turkish prince and a beautiful Italian girl with today's world. Therefore, the symbolic meeting between the two worlds, the Oriental and the Occidental, was treated by both sides with humor and self-irony. The Turk arrives on a flying carpet but he is surrounded by bodyguards much like an oil king. The intrigue of the outraging love affairs is accompanied by Rossini's purest allegro, but in the end, the couples rearranged in the moral order of marriage, revel in watching TV.

Both vocally and scenically, the representation was dominated by the Georgian singer Nino Machaidze trained at La Scala's Academy for the Performing Arts in Milan. In spite of some roughness of the timbre, the artist received well-deserved ovations for her charming and temperamental mastering of the coloratura technique and of the strict acting requirements of the part. An excellent supporting part was played by the Italian Enrico Marabelli. On July 9th, I saw the Armenian bass Tigran Martirossian play the role of Selim the Turk. Although he had been unexpectedly given the part, the artist honored the representation with his natural acting style and a quality bass-baritone voice.
Haiganus Preda-Schimek
Translated by Dorina Burcea
MA Student, MTTLC, Bucharest University