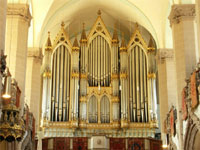 The Chamber Music Festival in Brasov
Tuesday, 30 June 2009 , ora 11.46

The Chamber Music Festival in Brasov continues. In no more than a week after the end of of the Philharmonic's musical season, I returned to the Black Church, but this time to listen to an organ recital performed by Steffen Markus Schlandt.

The organ of the Black Church in Brasov was built between 1936 and 1939 and over the years, it required only one restoration, performed between 1997 and 2001. It is an incredibly strong instrument and that is why it is not a surprise that, literally speaking, during the recital everything vibrated. Steffen Schlandt chose a varied and very well inspired repertoire that included both compositions of some local organ masters such as Martin Schneider and works of some worldwide known composers, such as Nicolaus Bruhns, Johann Sebastian Bach, Wolfgang Amadeus Mozart and Franz Liszt.

On June 30th 2009 I perfectly understood what "finis coronat opus" means when I listened to the Prelude on the theme BACH by Liszt, in Steffen Schlandt's interpretation. The work sounded extraordinarily, the organ was freed, starting some overwhelming sonorities by their strength and beauty. An infinity of voices were overlaying, each of them penetrating itself in a subtle way and enriching the sonority of Liszt's work. Due to its beauty, this prelude could be considered indeed a tribute addressed to Johann Sebastian Bach, especially when it finds its expression in such a good rendition like the one offered by Steffen Schlandt.

In the Black Church, the organ is a vivid character, a friend to the ones who come to listen to it. It always greets its guests with the same warmth and never lets them down.
Petra Gherasim
Translated by Heleanu Mihaela Liliana and Elena Cigareanu
MA Students, MTTLC, Bucharest University