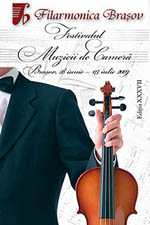 The Opening of the Brasov Chamber Music Festival
Sunday, 28 June 2009 , ora 11.48

The Chamber Music Festival in Brasov has become a tradition, managing to gather, during its thirty-six previous editions, renowned names of the musical scene nowadays. The organizers want to do no less in this 37th edition, promising music lovers several pleasant surprises. Thus, the Chamber Music Orchestra of the Brasov Philharmonic, conducted by Ilarion Ionescu-Galati gave their last performance this season on June 28th, at the opening of the festival. The opening concert was held at the headquarters of the Brasov City Hall, in an extremely beautiful, bright hall.

The programme included pieces by Vivaldi and Bach. More precisely, Symphony No.2 in G Major and Concerto No.6 in A Minor for two violins and orchestra, both signed by the Venetian composer, as well as Concerto in D Minor for two violins and orchestra and Ciaccona in the same key, by Johann Sebastian Bach. Florin Ionescu-Galati and Danut Manea, concertmaster of the Brasov Philharmonic, performed as soloists.

I have no comments regarding the performance given by the artists. All the pieces sounded wonderful, and there was a real connection between the orchestra and the soloists. The musical dialogues between the first and second violinists, on the one hand, and the viola, cello and contrabass players, on the other hand, represented a harmonious entirety well directed by the conductor, especially in Bach's Ciaccona.

The artists' performance is all the more commendable considering they had no satisfaction out of this event, other than the joy they gave to the public. Indeed, all the artists performing in this festival will do so for free, as the Ministry of Culture was unable to provide any funds for the organization of this event. However, the musicians in Brasov do care for tradition, and, this time, material impediments would not stop them from performing for their audience. Let us hope that such embarrassing situations will no longer occur, and that the festival will be granted due consideration starting with its 38th edition.
Petra Gherasim
Translated by Silvia Bratu, Elena Gheorghe
MA Students, MTTLC, Bucharest University