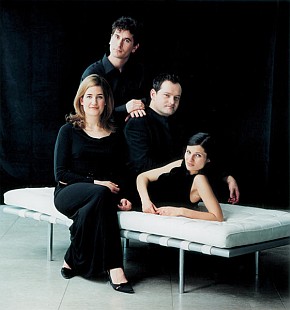 The Belcea Quartet, once again on the stage of the Romanian Athenaeum
Tuesday, 9 June 2009 , ora 11.57

Owing to the partnership between the Romanian Cultural Institute and the "George Enescu" Philharmonic Orchestra, on the 9th of June 2009 music lovers from Bucharest had the opportunity to enjoy once more the presence of the Belcea Quartet on the stage of the Romanian Athenaeum. This time, the violinists Corina Belcea-Fischer, Laura Samuel, Krzyztof Chorzelski and the cellist Antoine Lederlin opted for musical works signed by Beethoven, Prokofiev and Schubert.

Once more, the excellent timing of the four artists was worthy of remark. Endowed with a great capability to empathize, not for one moment did they ruin the balance imposed by the musical works. Thus, the impetuosity of the Quartet in F minor op. 95, "Serioso", by Ludwig van Beethoven, as performed by the Belcea string quartet, embodied the perfection of sound. The Quartet no.1 op. 50 by Serghei Prokofiev unveiled its explosive vibrations and surprising chords, whereas Franz Schubert's Quartet no. 14 "Death and the Maiden" lent the recital a tonality of drama and sadness. Humanity is incapable of escaping the darkness of its mortal condition - this is the underlying message the composer tried to convey either by means of grievous resonances or calm, submissive chords in the face of death.

Even though the repertoire was characterized by minor tonalities, the public could experience the performers' intensity of expression. At the end of the program, at the request of the public, the Belcea Quartet played an encore of the Scherzo from Quartet no. 2, Op. 59 by Ludwig van Beethoven.

Elated both by the quality of the program and of the performers, the audience retired to their homes with the hope of seeing the members of the Belcea Quartet performing on the stage of the Romanian Athenaeum again in the near future.
Petra Gherasim
Translated by Ana Maria Comes
MA Student, MTTLC, Bucharest University