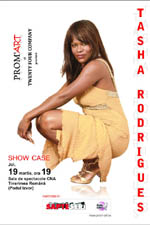 Tasha Rodrigues in concert at the Hard Rock Cafe
Saturday, 23 January 2010 , ora 12.11

If you wanted to escape the January frost in the weekend January 23-24, 2010 and travel to foreign countries, searching for more exotic cultures, you could see a less common concert - at least in the musical landscape of the capital; it took place on Saturday evening, in the 'Hard Rock Cafe' club. The protagonist of the evening was the South-African singer Tasha Rodrigues, who was given the name Black Orchid in her foster country, Italy.

The concert was opened by Brazilian Biu Marquetti, ex-singer of the Mandinga band, who was invited to sing together with the musicians who accompany her, reunited under the name the Caraibian Band; the salsa rhythms, the á la Carlos Santana tunes and even an original version of the track Dar-ar naiba dragoste, în tine (Damn you, love) created the adequate 'introduction' for the world music style of Tasha Rodrigues, as the Cuban and Romanian members of the Caraibian Band stayed on stage in order to sing with her.

The singer who was born in Angola met the audience expectations to listen to African rythms, Brasil and specific Portuguese fado sounds, by means of describing, through music, the travels and geographical halts of Tasha Rodrigues together with her parents and sister - who had positions in the diplomatic field.

Also, the permanent involvement of the artist in the fight for freeing the South-African population under the domination of the rasist regime apartheid was transposed in tracks like The Human Race, dedicated to the President of The United States of America, Barack Obama. In this respect, Tasha Rodrigues's concert clearly rendered the singer's credo: music can change the world, only if people are willing to change their attitude towards their fellow men.
Alexandra Cebuc
Translated by Zenovia Popa
MA Student, MTTLC, Bucharest University