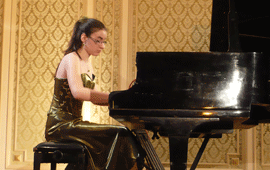 Tuesday Evening Season
Thursday, 25 February 2010 , ora 12.33

A new edition of Tuesday Evening Season took place in the Small Concert Hall of the Romanian Athenaeum on February 21st. Right from the start, the age of the young pianist Adela Liculescu and the programme announcing a rather difficult repertoire piqued our curiosity.

The recital comprised four sonatas: Sonata in E-flat Major by Joseph Haydn, Sonata op.53 in C Major 'Waldstein' by Ludwig van Beethoven, and after a short break Sonata no.2 B-flat Minor by Frédéric Chopin and Sonata no.4 in F-sharp Major by Aleksander Scriabin.

Pianist Adela Liculescu was born in 1993; she is in the 10th grade at the 'Marin Sorescu' Art High School in Craiova, under the guidance of Mariana Ilie.

She developed her skills by attending virtuosity courses with pianists Walter Krafft, Csiky Boldizsàr, Mihai Ungureanu, Vlad Dinulescu, Diana Ketler, Sylviane Deferne, Mirabela Dina, Tamás Vesmás.

She won First Prize in international competitions like 'Carl Filtsch' (Sibiu), 'Rovere d'Oro'(San Bartolomeo al Mare, Italy), 'Craiova Piano', 'Pro Piano'(Bucharest) and the national music competitions.

In July 2002 she took part in a concert for young performers, organized by Münchener Musikseminar at the Gasteig Philharmonic in Munich; in 2004 she attended piano courses in Munich and performed during two concerts in Lenggries and Murnau in Germany.

In 2005, together with other few young Romanian performers, the pianist held a small recital on the prestigious stage of Gasteig Philharmonic in Munich, on the occasion of the 'Romanian Culture Days'.

Adela Liculescu performed as soloist alongside the Craiova Philharmonic Orchestra, 'Ion Dacian' National Operetta Theatre Orchestra and as laureate of 'Orange Young Musicians Awards' in 2008 she performed Ludwig van Beethoven's Concerto no.5. On the same occasion, she also played chamber music together with renowned Italian violinist Domenico Nordio, a member of the jury.

She was featured as guest pianist in Musicians - Today and Tomorrow , a Radio Romania broadcast, and also held recitals in other venues: 'Thalia' Philharmonic in Sibiu, Craiova Philharmonic, 'Carl Filtsch' Competition opening concert, 'George Enescu' Festival, Albrizzi Palace in Venice, Villa Carlotta in Tremezzo (Como, Italy).

Although Adela Liculescu's recital on the evening of February 23rd was obviously demanding, she performed the four sonatas with a surprising familiarity. Both vigour and sensibility grant her a very good technique. Above all that, she offered an encore, La Valse by Maurice Ravel, proving a very high potential, an exceptional ardour and zeal. We might have noticed that her performance was a little bit hasty, but probably the enthusiastic energy of her age is to be blamed. As the years pass by, the young musician will surely be able to handle this energy and she will definitely gather wonderful accomplishments.

Unfortunately the Small Concert Hall stage piano is not in very good condition and that certainly diminished the sound quality.
Adriana Niþu
Translated by Bogdan Prundeanu and Alina-Olimpia Miron
MA students, MTTLC, Bucharest University