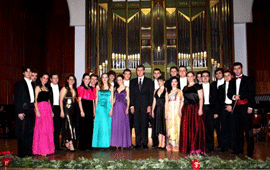 March 1st – Charity Concert Held by the Royal Camerata
Thursday, 4 March 2010 , ora 11.03

The March 1st gift for the children with cancer or leukaemia was a charity concert held by the Royal Camerata at the Romanian Athenaeum. The event was organized by this ensemble in partnership with the Hope for Hope Foundation under the High Patronage of His Royal Highness Prince Radu of Romania. The concert marked the beginning of the Snowdrops Dreams campaign, which is meant to raise funds for the creation of the first kindergarten for children suffering from these cureless diseases.

I would like to especially congratulate the members of the Royal Camerata for having accepted to hold this concert. There are still young people who are aware of the real every day dramas and react to them. Unfortunately, the small number of people in the audience was a sign that the interest for the humanitarian aspects of life seems to be one-sided.

The Camerata performed well. It is true that there were a few de-synchronizations and a lack of accuracy from time to time. However, for an ensemble that performed in front of an audience for the second time, I dare say they managed to be at their best. And their noble goal was far more important than any small mistake they could have made. I am certain they will improve in the future.

In the foyer of the Romanian Athenaeum there were two stalls where you could buy books. The money gathered from the sales was given to the Hope for Hope Foundation and the children suffering from cancer.

It was a well-received evening, for the actions taken by the Royal Camerata and the Hope for Hope Foundation managed, to my mind, to bring forth the real problems in this world, thus making us forget at least for two hours the so called tragedies that usually overwhelm us.
Petra Gherasim
Translated by Cristina Caramida, Andreea Velicu
MA Students, MTTLC, Bucharest University