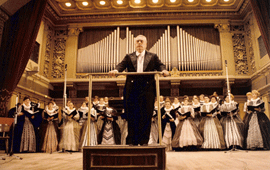 Anniversary concert Marin Constantin
Friday, 5 March 2010 , ora 12.11

The number of Friday, February 26
th
2010 was…..85. Marin Constantin, the conductor and the founder of
The National Chamber Choir Madrigal
, turned 85. That one remarkable artist who has led some of the most beautiful Romanian voices all over the world was celebrated on Friday, February 26
th
2010 at the George Enescu Hall of The National University of Music in Bucharest. In the presence of the choir that he has conducted for 45 years, Dan Dediu, Rector of The National University of Music from Bucharest, musicologist Viorel Cosma, conductor Ioan Golcea and Lucian Bonifaciu, member of Madrigal since its setting up, stepped on the stage to wish Happy Birthday to the Master.
Then there came the moment of art, when the Madrigal Choir sang several songs, being conducted, in turn, by the four aspirants for the post of conductor of the ensemble: Bogdan-Stefan Andronache, Anna Ungureanu, Florian Costea and Emanuel Pecingina. So, in honor of Marin Constantin, a varied program could be heard, including songs of the Renaissance, but also contemporary pieces. Whatever the song may have been, the purity of voices was stunning, reaching those sounds which were rightly called "stellar" by the guests. After the break, the film Una Vita per l`arte was shown, bringing back the memory of some important events which the ensemble lived altogether with its conductor: the invitation to sing at the Vatican, in the presence of Pope John Paul II, as well as other times when Marin Constantin was celebrated. The film was even more touching, as there were former members of the choir in the room, who enjoyed finding themselves in the moving images.
And this time, as in other occasions, the event was presented by Prof. Grigore Constantinescu PhD.

Anna Ungureanu: "Not only under these present exciting circumstances, but also every time we get on stage,we reap the fruit of a true school that was created by master Marin Constantin and his art has still endured within this institution which hosted this wonderful anniversary. We feel the Master's protective and artistic wings even at times when he is not with us, we feel the public's admiration, everyone's gratitude that listens to and helps us perform in such difficult financial moment. The last but no the least, we all feel that we need our master, Marin Constantin, a long time from now on. We all want somehow to gladden his days."

Prof. Viorel Cosma PhD: "A brilliant evening for a master of Romanian culture at the age of 85 . It is a celebration for all of us and a great joy to have him amongst us tonight, and I hope that we will have him close to us for a long time from now on. What Marin Constantin has achieved is quite extraordinary and many countries today would like to have a master such as Marin Constantin and a choir like Madrigal. What he has accomplished with this choir is a pride for all of us and I can only wish his brilliant jewel that he has brought to life, as a watchmaker of great force, to carry on further that man's desire. Marin Constantin has lived, and breathed only for Madrigal, for the highest recognition of Romanian music of then and now. "

Prof. Grigore Constantinescu PhD: "For almost 60 years, Master Marin Constantin has dedicated his life to music, and for almost 50 years he has worked on perfecting this wonderful choir, which he has led to brilliant heights in the artistic world. Madrigal has offered to his master the most beautiful sign of love - its songs. It was an emotional evening, which of course, will be added to the chain of memories that we all have lived with Madrigal."
Petra Gherasim
Translated by Alinda-Gabriela Ivanov, Andreea Velicu
MA Student, MTTLC, Bucharest University